If I cane drink it, anyone cane
The Tales of the Cocktail registration process in the Hotel Monteleone was edging on testing for many in the queue. Us first time Tale tellers were so busy taking in the atmosphere that we didn't quite reach impatient. The most testing part was knowing what was ahead of us for the day and having no control over the timing. During our first day at the terrific Tales, we waited in anticipation for a very juicy taster indeed.
Most of the attendees at Tales were scoping out the newest and of course the most classic boozers on the event schedule. Although I will not deny that I was also head hunting super spirits, I had one brand on my agenda. I must of been one of the only attendees that was scoping out the non alcoholic beverages.
Louisiana Cane Juice
The story behind Louisiana Cane Juice is really quite remarkable and also fairly mind blowing to us, being from the UK. Created from the fertile soil of the Mississippi River, we don't really have anything similar to this. David Stewart, the CEO behind the brand really does have an inspiring and thirst quenching passion for his brand and it shows in every sip.
David Stewart, grew up on the farm, he enjoyed spending time amongst the peace and quiet of nature. When the opportunity surfaced, he was more than keen to take on the Alma Grown Plantation at the very ripe age of 26. A success in itself! This wasn't quite enough however, he knew about the sweet purity in his sugar cane crops and squeezing it with fresh lime, amongst other flavours was something he had to share. Alas, Louisiana Cane Juice was born and my new favourite taste was distinguished.
Taste Test Truths
After waiting patiently (a rarity for me) we were finally at the front of the queue. Alma Grown had set up the 'Corner Bar' in the Hotel Monteleone lobby, dressed appropriately in canes and plants.
Mojitos were the first tasters on offer. Mojitos are magic but I wanted little disguise in the true test of the products taste talent. Little did I know how much I would fall in love with the lime in question. Louisiana Cane Juice, in lime, is my absolute number one favourite juice ever. Although I guess it is supposed to be used as a mixer, I would drink it on its own. This leaves me with 2 options, either I visit Louisiana on a far more regular basis, which I am okay with. Or, we start getting this stuff distributed in the UK.
The options behind the sweet, fresh juice are endless. I want to get out my hippy hippy shakers and get down to playtime with this juice to see what kind of cool cocktail concoctions I can come up with. I'm not even from a bar-tending background so I can imagine there will be some pretty talented twisters and mixers wanting to get their hands dirty with this super trouper.
Can I ask you a flavour?
It is no secret that I fancy my Cane Juice as a lime dime. However, there are a broad spectrum of flavours available in the range. These range from Strawberry, and Lime & Mint to Lime & Ginger and even Pineapple and Jalapeño. I just want to lick it all up.
The best news is that although the brand is fresh, they are seriously fresh to the extent that they are releasing their juice mixer in 22 US states in the fall or Autumn, if you are British. This is great news for me as we are planning on visiting the US on a far more regular basis. However, we need to get this product to the UK and fast or I fear I might dry up completely.
Cane Land Distilling Co.
My Louisiana love story grows more romantic by the minute. I popped in to the Meet the Distillers event at the Sheraton Grand so I could not only scope out the talent but so I could find my one true love all over again. Things took an even stronger turn when I bumped in to Cane Land Distilling.
Walter Tharp is the brain box behind Cane Land Distilling, making use of the Alma Cane Plantation to assist in creation of their various cane based spirits. I was lucky enough to sample the Rhum Agricole. No I have not had a spelling mistake, Rhum Agricole is the French term for cane juice rum. This stuff packs a punch and with it being so heavily influenced by the Alma Plantation, I have undeniable respect for Cane Land. I never got a chance to try the Red Stick Cinnamon Rum but I don't feel this will be the end of our romance.
Bottle of bliss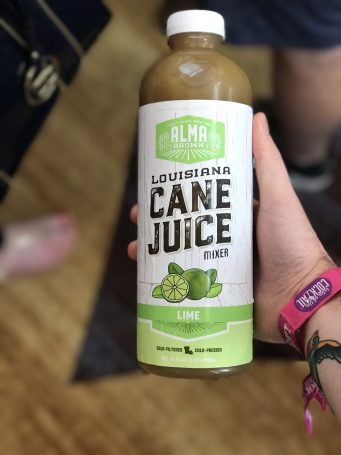 I would like to thank David Stewart and to all those at Cane Land distilling who provided me with interesting in depth information about both of the amazing brands, collaborating to bring out the best in Louisiana produce. I for one, cannot wait to keep my eyes peeled on the progress of both Alma Grown and Cane Land and cannot wait for them to get the global recognition they deserve.
Also, David – that bottle of Louisiana Cane Juice you provided me with definitely didn't go amiss.
Tales of the Cocktail
As always, our complete gratification and thanks go to Tales of the Cocktail. Not only did we enjoy every moment of working with such a successful brand at such a superb event but you have provided us with the opportunity to get up close and personal with some great new brands. As always, all opinions are relevant, fresh and honest with a dash of lime.