Because you're never fully dressed without a large rosé, three oysters and a crème brûlée. Have you eaten at the Brasserie Prince? If not, why not? Okay sure, it was only our first time eating there, but it will not be our last. The food was unreal and so too, was the service. We were pretty lucky to be booked into the Brasserie on a Friday evening. I can imagine it would normally be pretty hard to get a table there. The restaurant is the perfect mix of casual and classy. There are booths with comfy wraparound sofas, warm lighting (which gets warmer with wine) and a lovely atmosphere. The perfect place to spend a Friday evening really.
Divine Wine
With it being so chilly and dreich outside, stepping into the warmth (and the bubbly) was a welcome treat. We were welcomed to our table with a lovely glass of pink champagne before the waiter read the specials. No, sorry, he didn't read the specials, he poetically recited the specials. It's like he had spent several happy weeks living off the specials alone. No menu will ever recommend anything as well as this guy did. I'm pretty stubborn and had decided on what I was ordering weeks ago, and yet he changed my mind and sold me on every course. If you're going to the Brasserie Prince, be open-minded, as you will probably change your mind if he's on shift.
After our pre-starter champagne, we chose a rose wine. Aye 2.0 is not a little ole wine drinker but he settled in amply to his new beverage. And what he didn't sip, I tipped back with no qualms. I felt so relaxed. For the first time in weeks actually. The Aye Life looks mega glam (and it can be) but it involves a lot of travelling and a lot of late nights at the screen. And nae the telly. So I welcome any opportunity to just relax. Like Frankie said. 
Aww Shucks
For starter, I had the deep-friend langoustines in lobster bisque with lemongrass and beansprouts. It was one of the tastiest things I have ever eaten. The bisque alone was perfection.
Aye 2.0 ordered salt cod and roe brandade. And we both ordered a couple of Scottish rock oysters. Which were phenomenally fresh. Like, who'd have known oysters in Autumn is a thing? Usually, Autumn is all about steaming hot soups, carb-heavy pasta and slow-cooked bolognese. We've been doing it wrong for years. An oyster in the morning would get me out of bed far better than my instant latte, that's for sure. Oysters and rose wine are friends by the way. Best, best friends.
For Goodness Hake (and steak)
The most tender steak I have ever had with a rich bearnaise sauce and a colourful side of heritage tomato salad. Aye 2.o had hake kiev with creamy buttery mash. It was gorgeous. We both picked at each other's plates, as is tradition at an Aye Life table. Try everything once. Portions were ample and warming. Exactly the kind of Scottish hospitality we have come to love from the capital.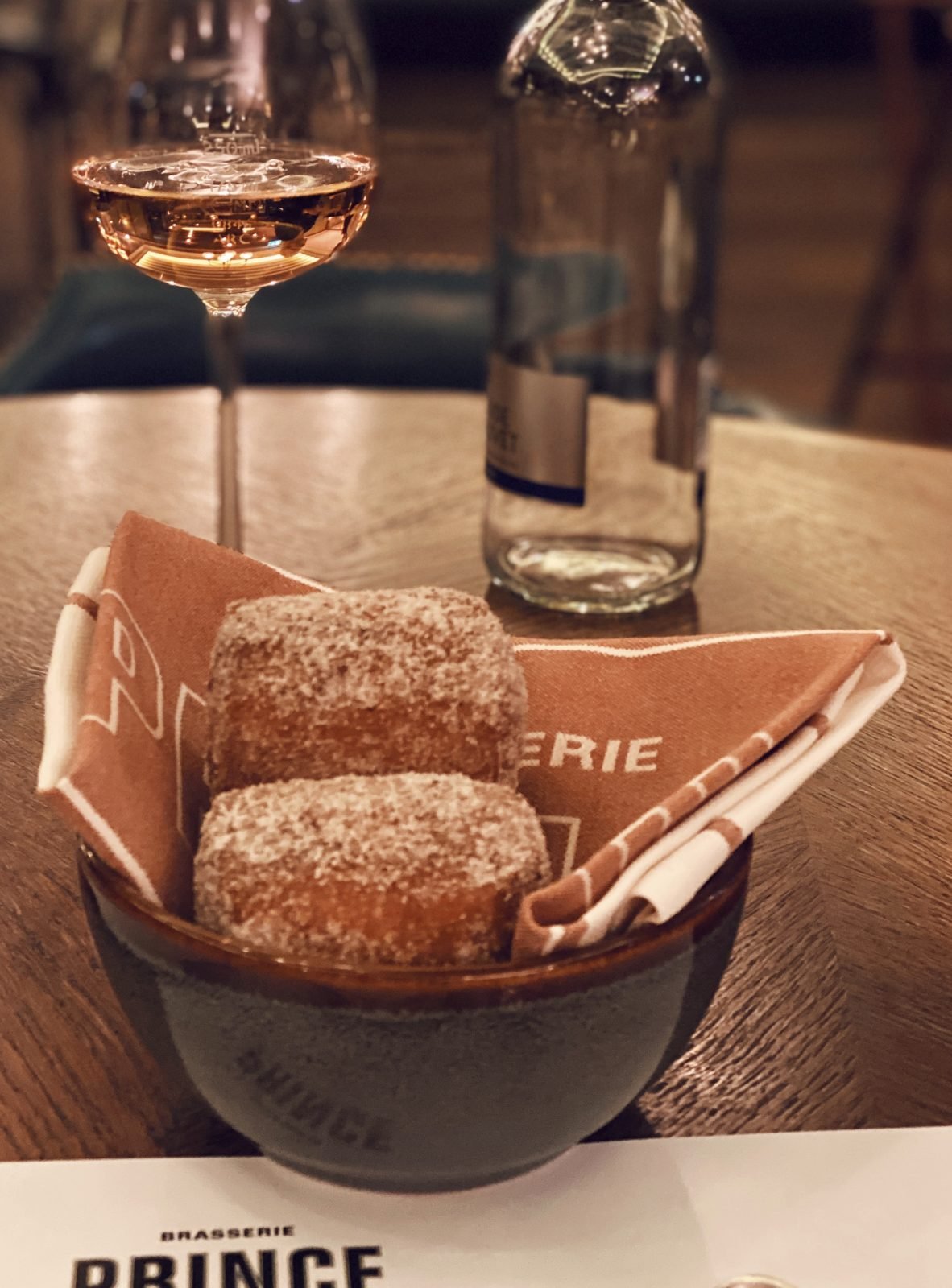 Dessert was lemon curd beignets (a wee throwback to good times in New Orleans) and a classic crème brûlée, crisped to perfection. We picked and shared whilst we finished the last of the Summer wine.
Brasserie Prince at The Balmoral Hotel
With its enviable location on Edinburgh's Princes Street and cosy home in the beautiful Balmoral Hotel, The Brasserie Prince just makes sense. Even if you are not staying in the hotel, you can still book a dinner to remember in this relaxed, French-come-Scottish comfortable restaurant. Try the wine, enjoy the atmosphere and consider the specials. Bon appetit.
Book your Scottish dining experience here.