Suite Dreams
I've never booked a hotel room with a kitchen in it before. Even though every time we stay in a hotel we're like, "Shame this place doesn't have a kitchen." Mostly because we want to eat our takeaways with cutlery. But Aye 2.0 is too embarrassed to phone and ask reception for cutlery. Because he finds it embarrassing. And I'm usually too busy doing something like everything to ask for cutlery. Besides, most people who grew up in the Scottish Highlands have learned to eat with their hands. That's what happens when being cut off from the rest of the world is an imminent threat. But himself grew up in the country next to sheep and fields and cute little bunnies. And his mum had him on the silver flatware from the age of birth. Either way, kitchens in hotel rooms are handy. And our "bijou" suite in Craibstone Suites Aberdeen, had a kitchenette. Which didn't include an oven. But did include two hobs, a microwave, a fridge, and plenty of cutlery for takeaways. Winning.
Bon According to Me
You don't need to cringe at that heading, I'm doing it for you. "Bon Accord" supposedly means goodwill or good fellowship. Bon Accord is also, according to Google, "Aberdeen's oldest motto" which gives absolutely nothing away???
The Craibstone Suites are located on Bon Accord Square which is a 2-minute walk from Union Street. And for reference, is across the road from Temple Medical (where you can go to get your lips plumped-up) and round the corner from The Spiritualist. The Spiritualist is a restaurant and cocktail bar. And realistically, if you're staying in a Craibstone Suite, you dinna really need to go any further for scran.
Although, we never got time to eat out this time. We never get time to eat out unless it's for work. And I'm complaining why? I had a big sausage for my dinner. And himself had yella' chicken fillets. Not like you care. But again, it was fine to have cutlery.
Cosy Craibstone
When I googled "Craibstone Suites Aberdeen Reviews," there was plenty of good feedback.
Our suite was flippin' immaculate. Like, one of the cleanest places we have stayed in. And we've stayed in The Ritz. I think the person who cleans Aberdeen's Craibstone Suites has OCD, and I love fellow clean-nutters. I could have eaten my big sausage of the floor, but I didn't even need to because remember kitchen cutlery-gate? Plates included.
How cute is this kitchen though? See if I was Carrie in Sex and the City and didn't eat anywhere except random unnamed cafes, I would totally live here. If that was an option. But I don't say these things out loud to Aye 2.0 because every time I do he says, "We should sell the house and move to" *insert random and unnecessary location here.*
Craibstone Suites Aberdeen Review
A desk. A cute little kitchenette. A pretty big bathroom with a sparkling shower big enough for two people to um, dance? in.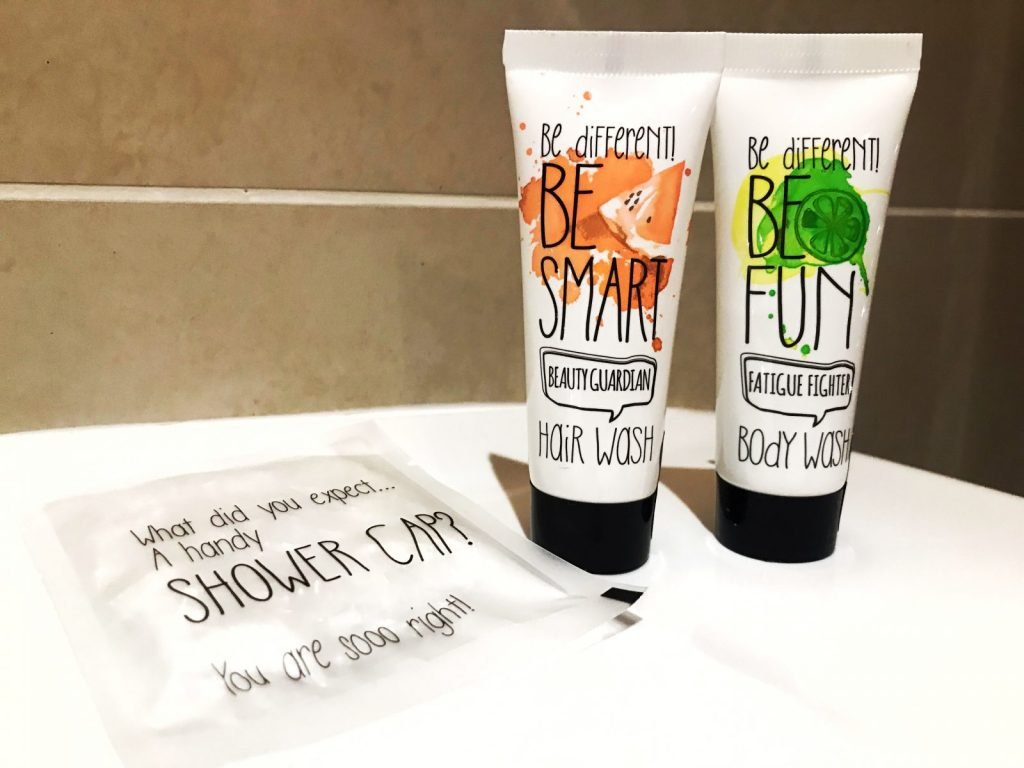 The window seat with comfy leather chair, TV and bonnie Bon Accord Square view. We were also spoilt by a little snowfall during our stay. Totally romantic if I wasn't mid-menstrual and Aye 2.0 hadn't had too many cans of coca-cola.
Highly recommend Craibstone Suites for a central stay in Faberdeen. Bon Accord Square is quiet, yet near to a heap of pubs, clubs, and grub-stops. The shops are doon the road and the suites are near the train and bus station. Any excuse for a cheeky weekender in the Granite City.