You can live in any US City but
New Orleans is the only city that lives in you
Deanies Seafood
New Orleans is one of the friendliest cities I have ever visited. Like Glasgow, people in New Orleans are very real. Never have I known a city to make me feel so confident. So many times did locals tell me that I was 'working' my outfit. At home, I rarely work an outfit and when I do, ain't nobody got time to tell me. The locals didn't just compliment me when I felt hot and sticky.
They also gave me at least 700 recommendations of where to eat. Food in New Orleans is like the rain in Scotland, fundamental and plentiful. However, with 700 options to eat, only 2 weeks and each eatery sounding increasingly tempting, we had some key decisions to make.
The World is your Oyster
Back home in Scotland, Scott and I consume a fair amount of Salmon and a relative amount of prawns. Or 'praans' as Scotts accent pertains. We don't venture very far out of our fish field. If we are feeling particularly fishy, we might even throw in a battered haddock. New Orleans is known for its seafood. As it so happens, a particularly friendly taxi driver named Alvin was another in the know when it came to where to eat. He made a point of suggesting Deanies Seafood Restaurant, making us aware that we had not lived until we had tried a dozen charbroiled oysters.
At this point, we were oyster virgins. We were also charbroiled virgins. All in all, we were charbroiled oyster virgins. In fact, we never even knew what charbroiled meant. I mean, is that like grilled or boiled? What are these odd Louisiana words?
Too many fish puns, I better scale back
When somebody tells me that I haven't lived until I have tried a certain food, I become increasingly concerned about my life. Will my life get better when I eat this food or will nothing change? It's pretty risky business, this curious cuisine. We were proceeding with caution.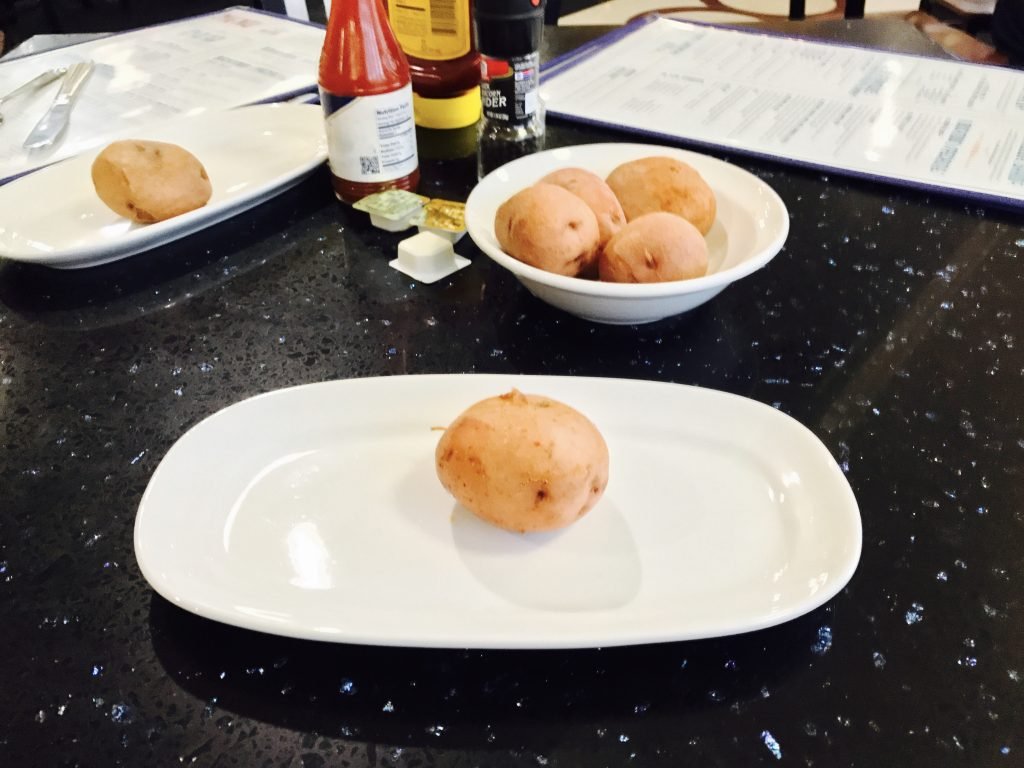 Our waiter soon appeared at the table with a bowl of tatties (potatoes). Just a bowl of tatties, in a pinkish colour. I have seen some sights, but a bowl of tatties in the middle of the table. Incredible scenes in Deanies. We were already in another universe. These tatties were ridiculously tasty. Apparently they are soaked in the sauce that comes of the oysters. At this point we had not tried the oysters so we were literally getting stuck in to fishy tatties. Life was good.
A dozen Charbroiled Oysters
We asked the waiter what charbroiled meant. He continued to tell us that the oysters were heated from the bottom up, similar to a char-grill but mind blowing. The oysters were to be served with French bread. The madness was continuing and I was beginning to feel that life changing moment. Again, I asked the poor waiter what the situation was with the French bread. I was feeling increasingly Scottish and increasingly foreign. He said the French bread was to soak up the butter from the oysters.
A large plate of shell on oysters arrived at the table with the French bread, next to the tattie bowl. The oysters were soaked in butter, herbs and crispy Romano cheese. Holy mother of God. The heart breaking thing is, I will never get anything like this in Scotland. More reasons were arising for a future return to the Big Easy. This is one of the best things we have ever eaten. We both hold our hands up and say that Alvin was right, we hadn't lived. I am alive!
I ate all the shrimp, how shellfish?!
Next in the fish feast was a bowl of shell on, grab and peel shrimp. I have never eaten a shrimp with a face before, or legs. The waiter was soon called over for a quick lesson in how I was supposed to eat these bad-boys. He explained that I had to rip the head off it, whilst holding the body. After this, I was to hold the legs and feel the shell off. The first attempt was an absolute disaster and I am pretty sure I got prawn juice on my shoes. How? I will never know. Soon after, I got very cocky.
By the end of my run in with the satisfying shrimp, I could of won the shrimp-lympics. The shrimp was fat and the freshest I had ever eaten. This means that I am going to have to buy some shrimp and try out the prep in the house. How this will go down, is beyond me.
Can you call a mari?
We only ordered calamari as we knew exactly what we would get. Calamari is pretty much the same in every country. Deep fried squid rings are fairly normal to us so we were playing the safe card. As with everything else we had eaten at Deanies, the calamari was insanely tasty. If you are looking for decent calamari, then Deanies is the squid-ringo starr of the fish dish.
 Deanies Seafood Restaurant
Honestly, we went to Deanies twice in the space of 4 days so you do the maths. The second time we went, we ordered a dozen charbroiled oysters each with fries. If you get a chance to experience these unbelievable oysters, don't bother ordering them with fries. Mostly all other food including fries is inferior in taste to what you will get with a plate of superb oysters. The atmosphere in Deanies was relaxed and comfortable and most importantly, real. The best piece advice I could give would be to listen to the locals. They know the food better than we could ever hope to.
Overall, we loved our two visits to Deanies Seafood Restaurant in the French Quarter and as we will be returning to New Orleans at some point in the hopefully, near future. We will probably book a table for the whole week. In the meantime, if you live in Scotland and have a way of concocting up anything close to this, then I will do your ironing for a month.