This post is part of a collaboration with The Douglas Hotel, Malones Irish Bar, Ivy Lodge Bar and Restaurant, and The Craftsman. Couldn't think of better folks, our thanks to you all for a belter o' a trip. Corrie paws-es on his thanks.
Aberdonia: The Reunion
I'm nae being funny but what an absolute belter o' a time we had back in old Aberdonia! We went to some cool AF places that we didn't even know were even things. I think you might be just a wee touch surprised at this cracking city combo… But as usual, I'm getting way ahead of myself.
We weren't sure how it was going to be, being back in the homeland. We'd been away for the longest we'd been away in like forever. Like 4 months or something. Aye, I'd lived in Aberdeen (and the Shire) for like 8 years after moving doon from Inverness! And Scott grew up there. So it was kinda a big deal selling the house in Cruden Bay and moving up to the Highlands (my original stamping ground) to convert the van and move into it. That's a mouthful to say. But in all fairness, it was a mouthful of a few months.
So aye, we were both a wee touchy nervous to come back. It's actually bloody terrifying leaving what you know in pursuit of a Citroen Relay. We swapped the bay for a relay. And that's scary. And sometimes you're like, "oh crap, am I going to regret this and have to go backwards?!" But aye, no regrets. Just a wee bit of plot for ya.
Fit's deein?
We were headed down to Aberdeen for TEDx because our business handled the website build and design. And I won't get fed up about bragging about that because not only is TEDx generally just a brilliant thing for Aberdeen, but the event was a resounding success, the speakers were brilliant and I walked away loaded with motivation (and booze following the after-soirée but that's another plot).
Whenever we visit somewhere now, we are turning it into a proper trip. Nae "days here" and "days there" cause we are moving oor hoose aboot and that's exactly as exhausting as it sounds. So, we turned our Aberdonia reunion into an Abz fab trip to the North East, bells and whistles aplenty. We had two dogs with us, although we lost one along the way to her granny, then we lost another one to granny cause we wanted a date night. The plans the van commands are unreal. Poor granny. But we had such a brilliant time pals, so good.
The Douglas Hotel, Trinity Quay Apartments
There's something raw and atmospheric about Aberdeen that you don't get in other Scottish cities. Every one of them has a personality, and I love them all, but each offers something different. Aberdeen, for me, is big ships, big waves (in more ways than one), and big eats. I love watching the ships arriving in Aberdeen.
When I lived in Cruden Bay, I used to watch for the 7.45pm Northlink crossing to Orkney. There's something about it. There's something about the people in Aberdeen city; the doric accents, the hard-working folk, the street art, the theatre, the banter in the pubs, I can't word it. But it's a cracking place. The locals are too modest. Scream about Aberdeen, the place has everything.
We were staying in a Trinity Quay apartment by the Douglas Hotel on Shiprow. The location couldn't be better. It's as central as you can get and it's a stone's throw from the bus and train stations.
Every one of the restaurants and bars we went to weren't even a minute's walk from the apartment. It was SUCH an easy trip, which, after living life in Van Heilan, was welcome.
The apartment itself was spacious, brilliantly quiet at night (no mean feat for the centre of Aberdonia) and dog-friendly.
So, Corrie was right in for a root about everything.
The Ivy Lodge 
So aye, where the flock was AYE when this pop-up bar popped up and made lives better? The Ivy Lodge has fast become one of my favourite spots in Aberdeen. We stopped by on a Friday afternoon when the atmosphere was banging. It ties right back to what I said before about the hard-working folk of Aberdeen who just know how to let loose. It's the atmosphere I fell in love with as just a small-town girl who moved here 8 years ago. Ivy Lodge is right by the harbour and folk were arriving from work, for some of those Aberdonian good vibes.
I'll tell ya who else was having a good time. Corrie. Corrie was in his bloomin' element. The chef put together a wee bowl of chicken and pepperoni for him and honestly if he didn't get attention from absolutely everyone. He was loving life.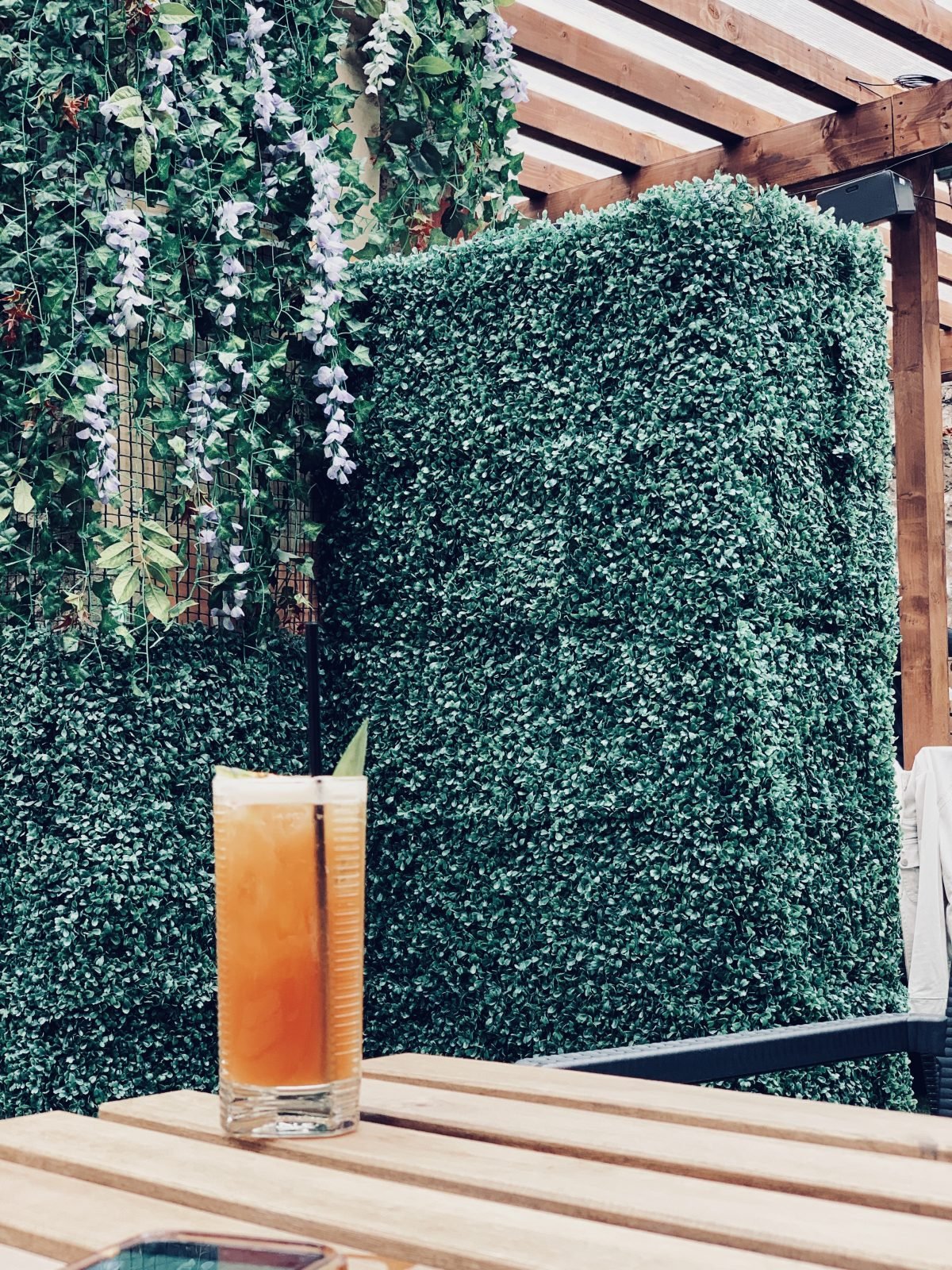 The cocktails were complex, and complex cocktails are the way forward. I recommend the 'Junglebird.'
The stone-baked pizzas are the best I've had in Aberdeen. The staff were lovely. We stayed here for hours, they were probably sick of us.
The Ivy Lodge is a perfect example of the way forward for the Granite city; authentic food and complex cocktails in a trendy central space. In fact, spaces like these are what Aberdeen is crying out for.
Malones Irish Bar
Well, ye ca' really go wrong with an Irish bar. If you know me personally, you'll know I'm a painful fan of Irish and Scottish folk music. I say "painful" as I will play it at any given opportunity. Ma pals just love me for it. So, it doesn't take rocket science to figure out who was in their element. There was a local singer lulling "This land is our land," and I was quite, feckin, happy about it. The best part? You could roll down the hill from Ivy Lodge to Malones in all of 6 seconds and back to the apartment in 4. Baileys and bed, life is good.
Molly's Bistro
Remember who said it first; Molly's Bistro in Aberdeen does the best mussel sauce in Scotland.
We know fish sauce. We've been places. And I kid you not when I say, we could have annihilated a sink full of this. Scott doesn't eat bread, he hates it (I know, creep). Yet, we were fighting over the last bit of bread. It got nasty. Jeeeeez though, that stuff is sensational.
But Molly's always does good food. We've been there a few times and it never disappoints.
Battered calamari and courgette with garlic mayo… battered courgette, who knew? Mussels in the best sauce going. Just the good stuff. Coupled with a pornstar martini, and good vibes. I had chicken carbonara for my main, and Scott, a katsu curry. And we both got hearty, tasty, affa fine food. The carbonara sauce, like that mussel sauce of gods, was cut from the same cream tree that the Molly's chef is cleary singing from. Just lush all round.
And possibly the best part, Molly's is at the front of Malones Irish Bar, which makes it just around the corner from the Douglas Hotel apartments, Ivy Lodge and the next stop on our grand tour of Shiprow and around, The Craftsman.
The Craftsman Coffee & Ale House
This was the last stop on our Abz fab reunion and I don't think we coulda' picked a better place to close our play. The Craftsman, not totally unlike Ivy Lodge, brags a complex cocktail menu.
This is the way forward for cocktails. Gone are the days (in my opinion) of pre-mixed blue lagoons, and in are the suave mixologists of the future.
The Craftsman with its cosy yet trendy interior, wouldn't be totally unsuited to a Brooklyn scene from Gossip Girl.
And they don't just do good cocktails and fancy brunch, they roast their own coffee in-house. I walked away with a bag of Colombia and I don't think I've really stopped talking about it since. Scottish food and drink is the way forward, it's more than time for us to flex our muscles.
Loose Lips Lift Ships
If you haven't already clicked, this grand wee selection of dog-friendly establishments are literally seconds from each other, all boast personality, atmosphere and great food and drink. They are all only minutes from the bus and train stations. Union Square Shopping Centre is about 3 minutes away from them all. His Majesty's Theatre, The Music Hall, The Lemon Tree and Aberdeen Art Gallery are all nearby. The reason I used "loose lips lift ships" is because I've dedicated my world to championing Scottish businesses, and the more we all talk about these businesses, the more we all help them thrive. So loosen those lips folks, let's champion Aberdeen and all it has to offer.