It's Christmas in Faberdeen
And we all know what that means. Boozing and shovelling festive fare doon our throats until the coos come home. Side note: where did the phrase "until the cows come home" even come from? Msg me. Ta. All year I'm like "aaah, mega stressed, always working, death." But then it hits December and I'm doing the feckin' conga around the house to Feliz Navidad with a bottle of Baileys in my hand and Christmas lights roon' my neck. And all stress goes out the window. And all of a sudden I think I am flippin' wonder woman, "sure I'll easy drink cocktails every night of the week and write 15 blogs a day whilst managing a business. Course, no probbbbblem." But I love it. And After a tidy experience at The Spiritualist Glasgow, we were itching for our Festive evening at The Spiritualist Aberdeen.
He's a Mean One
Mr. Grinch. But he makes one fine cocktail. As Lewis, our waiter, so greatly put it, "How are you getting on with the Grinch?" "Me? I'm just fine dear, I'd drink the Grinch any day if he was this sweet." I enjoyed my Grinch alongside the Ayrshire smoked ham and leek terrine which was served with granary bread and piccalilli. It reminded me of childhood lunches with my late, great nana and that in itself left a good taste in my mouth.
Aye 2.0 had gin-cured smoked salmon, which made him pull happy faces. I then ordered a daiquiri, straight up because daiquiris though.
Eat, Drink and be Merry
I had my first Christmas dinner of the year at The Spiritualist Aberdeen and I'll be honest, what a way to begin. Tender turkey, soft sprouts with crispy bacon, crunchy potatoes with soft centres and a pig in an affa cosy blanket. A fine to be alive and a fine Christmas dinner in the heart of Aberdeen city centre.
Himself took on the seafood chowder with cheese crostini and the finest crispy kale I have ever stolen of his plate. The chowder was creamy, well seasoned and packed a punch. He loves seafood so he was in his element. And I stole all of his kale. Good times.
Piece of Cake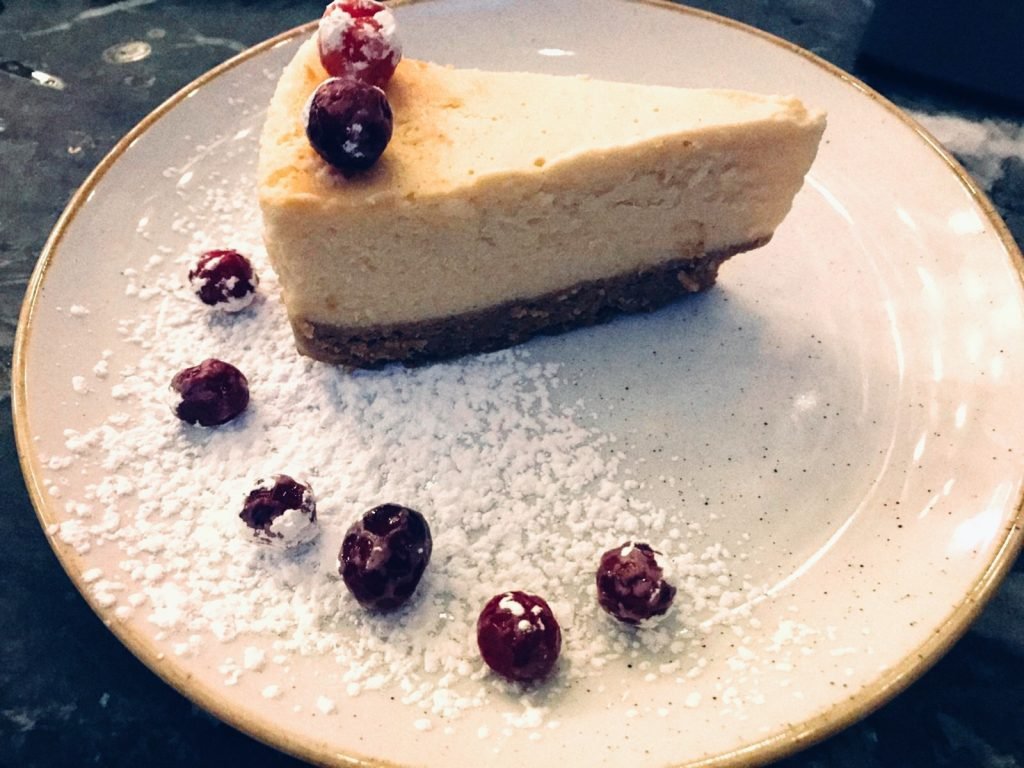 I ordered the eggnog cheesecake with sugar-coated cranberries, and the King ordered a chocolate hazelnut cake with ice-cream, so naturally, we swapped as soon as I tried his. But he didn't complain because he loves cheesecake. It's about the only dessert that he will actually eat!
The hazelnut cake was absolutely beautiful. Thick, warm and oozing with a chalky centre. Melt in your mouth stuff. Just add ice-cream and Bob's your mum, winning combo. The eggnog cheesecake contrasted perfectly with bitter cranberries and icing sugar.
Both desserts paired exceptionally well with my final choice of tipple, a candy cane cocktail made of iced rum and strawberry liqueur. If candy canes were melted down and blended with booze, this would be the result. And let me tell you, a candy cane cocktail paired with hazlenut chocolate cake and ice cream = the best Christmas food ever.
The Spiritualist Aberdeen
Looking for somewhere affa fine in Aberdeen to enjoy a Christmas meal? Pop along to The Spiritualist for festive fare, fine ambiance and one hell of a cocktail menu. And don't forget; life is short, wear your party pants.