The Body Shop Aberdeen
[one_third padding="5px 5px 5px 5px"]
[/one_third]
[one_third padding="5px 5px 5px 5px"]
[/one_third]
[one_third padding="5px 5px 5px 5px"]
[/one_third]
Photos from theayelife's Instagram
Because you know, I'm all about the face.
Alas, the festive season has fallen upon us. It seems like it has arrived practically overnight and all of a sudden it's dark by 3pm and we have some seriously chilly ba's.
I've also experienced mega SAD (seasonal affective disorder). I don't know why cause I'm not even sad. This is my favourite time of the year. There's nothing I love more than cosy nights in with man and dog. Unfortunately though, something has been getting me down and I just dinna really ken fit. I've made a promise to myself to look after Miss number 1 a little bit more. Instead of having to schedule in washing my hair, I'm making a little more time for my beauty routine and pampering. However, I have gone to the other end of the scale and now accidentally have enough beauty products to cover all of the staff in Boots, for a year. What better way to make the most of my face phase than to share my thoughts on my recent buys for all of you fabulous foxes.
Body Shopping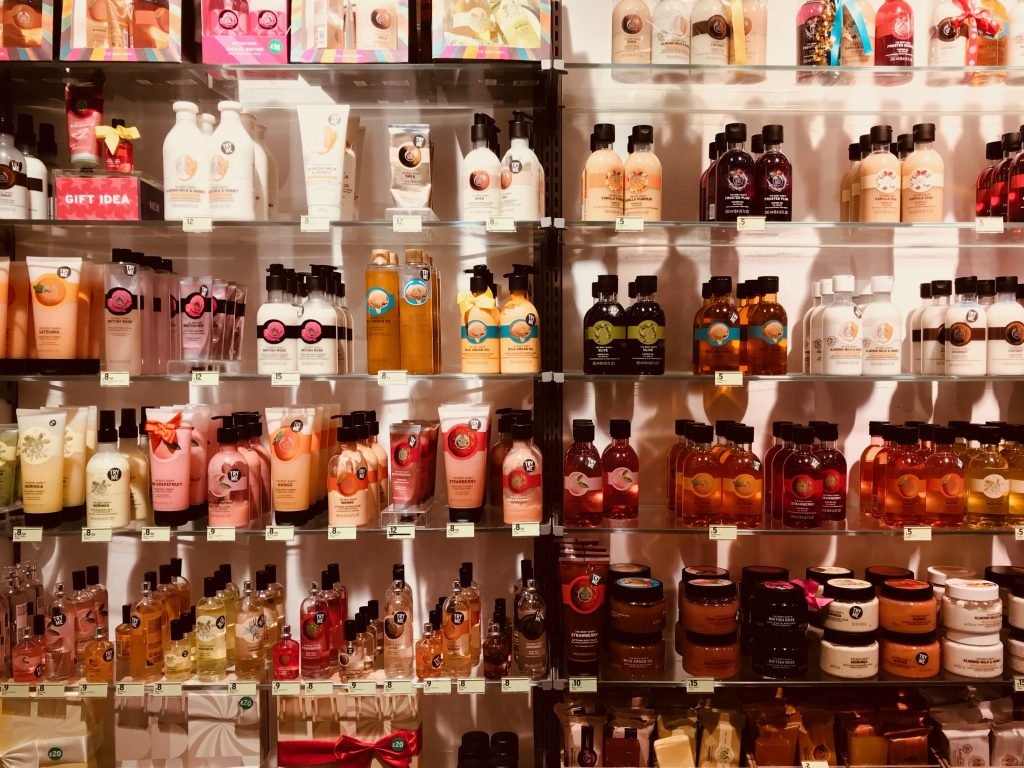 Around the time of my meltdown, I received an invite along to my local Body Shop in Aberdeen for an evening of pre-Black Friday discounts, samples and pampering. Exactly what the doctor ordered. In all honesty, I've never really been a big Body Shopper. If I was scheduling in hair washing then there was no way I was making time for retail therapy. Until now.
So here's me at the event with Scott in tow, eyeing up everything and attempting to separate 'needs' from 'wants.' For the record, Scott gets dragged along with me to all of the events as he has been a super Santa's little helper over the last while and these are the perks of the blog. Unfortunately for him, not all of our work comes under within the travel and food. So he ends up coming along to beauty events and standing by the nibbles table which keeps him out of trouble.
My Bonnie Buys
Here's my Body Shop haul in all its finery. As I only attended the event recently, I am also working on individual reviews for each product once I have a good idea of the ins and oots. I will be sharing this post as I have updated it with links to my individual reviews. Sit tight.
Tea Tree Anti-Imperfection Night Mask
I ain't gonna lie. I've been eating. Being a blogger comes with a bit of a luxurious lifestyle. Just the other day, we were convinced that Scott had gout (due to rich living). It also means a lot of time travelling, with travelling comes spending a lot of time 'eating on the go.' You try and eat healthily while you're being offered fine meals, sweet cocktails and 'relaxing' Chinese takeaways.
This combined with my lack of me time has lead to my skin looking a little less combination and a little more spot-nation. So as part of my beauty promise, I'm going to take more care of my skin. This has resulted in me taking a step back to my teens and turning to Tea Tree. This night mask also includes salicylic acid which is banging for drawing out blackheads. I've used it once (last night) and although my face looked fresher this morning, I need a good few days of playing to really get to grips with this product. Watch this space!
Tea Tree Clearing Foaming Cleanser
I used to use ESPA cleanser after having a superb facial at The Village Hotel and although the facial was out of this world, I just don't have the time to dedicate to the full ESPA routine. So I'm on the hunt for a quicker, spot-busting alternative for shower use. Although I'm still to try out this cleanser, I have high hopes.
Wild Argan Oil Exfoliating Gel Body Scrub
I'm a scrub lover. Seeing as I don't get much time to look after me these days, scrubs are a little luxury that I swear by. I've been using an Arran Sense of Scotland Scrub but as it is on its very last dregs, I used the Body Shop-portunity to try out a new scrubber. After sticking my nose into every scrub in the shop, this one definitely smelled the best. Hopefully it lives up to its smell. I'm so fancy.
Ethiopian Green Coffee Firming Body Cream
https://www.thebodyshop.com/ethiopian-green-coffee-cream/
After falling in love with the Lush Sleepy night body lotion, I've been on the hunt for a great after-shower day cream. I love the branding on the Body Shop Spa of the World products as they are so luxurious. I'm also very picky. The Ethiopian Green Coffee Cream definitely had the best smell in the range. The consistency is also very jelly-like which I love. It seems like a little will go a long way. The green coffee is known for its toning tactics so with any luck, I'll be taking part in some serious festive firming.
Coconut Soap
This was more for Scott than me so he wasn't completely left out. His review went a little like this… 'it lathers well.' So maybe I'll need to try it out to get more of an idea of its soap-er benefits.
Body Beauty
We would like to thank the Body Shop for inviting us along for a lovely event (and for some lovely discounts). Watch this space for more in-depth reviews of my body buys.