We recently had a cracking wee day out in Glen Affric. We were sent a brilliant platter from Grazey Days Inverness so decided on a post-worky picnic at Plodda Falls. Horrible day really. Couldn't think of anything worse…
If you're reading this and you have a spare hobbit hole in Glen Affric, I'd like to move in, thank you. How did I grow up in Inverness and spend no time in Glen Affric? It is absolutely stunning out there! What a wee treasure aye-land.
Grazey Days Inverness
I came across Grazey Days Inverness on the old gram-a-lang and couldn't resist a wee taster session. Grazey Days is a wee grazing platter business run by the lovely Jenny who only started this new venture 2 months ago and is already taking bookings for wedding catering! We laughed over insta about "flying by the seat of our knickers" and I couldn't help but think that this was a lass after my own heart!
Having moved away from Inverness 7 years ago (and edging on the side of moving back), I love seeing the progression in the area. Back in my day, a Chinese was about all you could get delivered. They didn't even have Pizza Hut! Having Grazey Days Inverness is like a full blown revelation for us! Perfect for last-minute picnics, brilliant for road trips/aye-ventures and ideal for events!
Crazy for the Grazey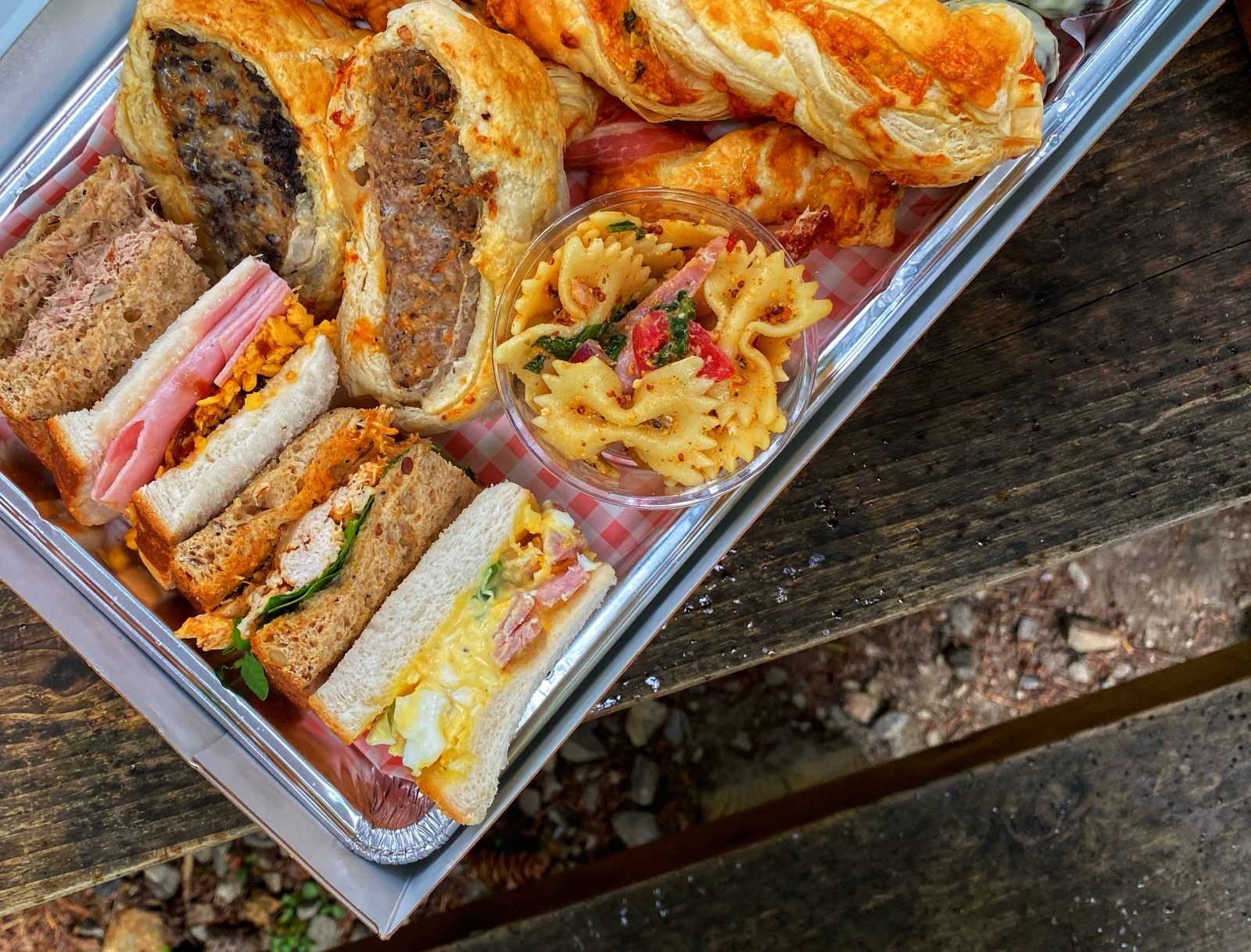 We were sent an afternoon tea box and a cheese box from Grazey Days Inverness. What a feast! There is literally nothing that didn't go in those boxes and we were totally okay with this. Amongst sandwiches and cheese and crackers, we also had haggis sausage rolls, Stornoway black pudding sausage rolls, jalapeño and cheese twists, salted caramel almonds and so, so much more.
Why are grazing platters not an actual takeaway option? It's such a lovely change!
Sweet Treats
And that ain't it. I ended up knee deep in scones with jam and clotted cream, Oreo truffles and, saving the absolute best for last, biscoff bites! The sweet treats were so good that I actually went and ordered another box to be sent to the house only a matter of days later. Somebody lock me up and throw away the key!
We drove out to Plodda Falls and sat on a secluded wee picnic bench by the river to eat our picnic platters, with nothing but Snoop doggo and mahoosive pine trees for company. We went for a hike and a swim at the bottom of Plodda Falls straight afterwards. Probably the wrong way round but what a smashing beast of a day!
If you fancy yourself your own Plodda/Platter/Picnic combo, get in touch with Grazey Days Inverness on Instagram or Facebook. Thanks, Grazey Days Inverness, we'll be back!