Haymarket Hub Hotel
There's lots of fields in our country, I guess you could say 'Its Scotland.' SorryNotSorry
Scotland looks awful bonnie at this time of year.. What better place to bask in Scottish Autumnal vibes that the capital city of Edinburgh. Arriving in Edinburgh for a cheeky little midweek stay was right up my alley, even if I was working during the whole stay. Sometimes a change of scenery is exactly what you need, especially when home is a renovation zone. Tripping over pipes and finding screwdrivers in the bathroom beside my toiletries is pretty depressing stuff. It doesn't even matter how many times you move tools out of the bathroom in our house, they always find their way back. There have been occasions when I have picked up pliers to brush my teeth, nae ideal.
Haaaay Hay Market, ooh aah
We hadn't stayed in Haymarket in Edinburghs West End until we were invited to stay at the Haymarket Hub Hotel, Scotlands first Smart Hotel. Usually we pin ourselves to the city centre as we don't really know the outer areas as much and are on an ever expanding journey of discovery.
The Haymarket Hub Hotel is less than a 20 minutes walk from Princes Street. Haymarket has literally everything you could need. The Hotel is directly across from the railway station on a street full of shops, restaurants and boutiques. There is also a Starbucks across the road which we made really good use off and a restaurant next door to the hotel named Platform 5. We never actually ate in the restaurant as we had pre-scheduled dinner plans but it is owned by the Belhaven brand which means cheap hearty dishes, a variety of booze and big screens for the footy. Aberdeen were playing Celtic during our stay so I popped my head in a few times for a look at the score.
Car Puns are Exhausting
The Hotel boasts a fairly secure car park to the rear of the property on Rosebery Crescent Lane. At £10 a day, you can park your car and forget about it. A £10 day rate is extremely reasonable as it is no secret that parking in Edinburgh can call for a re-mortgage. As the parking is at the back of the hotel, there is a rear entrance. Unfortunately the rear entrance is also where the hotels bins are kept. This is likely the only option for storage and although not the prettiest, they are kept tidy and there were no smells. This is a small cosmetic price to pay for being able to offer parking.
Get Smart
The Haymarket Hub Hotel is Scotlands first smart hotel. That is not to say that the other Scottish hotels are stupid. In fact, the hotel diversifies by offering its guests a smart phone to use during their trip. The phone is produced by a Japanese brand called Handy who are an ever expanding brand utilising mobile technology to enhance the hotel experience.
The phone offers free international calls, data and exclusive promotions. When we arrived, our phone was waiting on its combined charger and holder for use. Unfortunately our phone wasn't quite plugged in to its charger and therefore didn't have much battery. It was also bad timing that a software update was in action. Although this does show that the brand are constantly updating their software. With the Scottish tourism sector expanding, offering tourists free international calls is really practical.
Haymarket Hubba Hubba
The interior within the hotel is very modern and efficient. All of the rooms in the hotel have Sky which was ace for chilling out. For some reason, the person before us had changed the display to zoom in on the screen so Scott became the Sky guy for a few minutes (what a talented gentleman) and it was soon fixed. The time on the telly in our room was off by an hour but the clocks are due to change this month anyway, problem solved.
Our room was relatively compact however the bed was absolutely massive. This is probably the most important part of staying in any hotel. I am a light sleeper so I don't care if I am in the depths of the jungle, as long as the bed is comfortable. I've read recently that how couples sleep says a lot about their relationship. We barely see each other all night and we love each other more than ever. In this case, Scott and I were giving it 'starfish' and I barely seen him for the whole night. Ideal. Don't believe the hype.
Cheap and Comfortable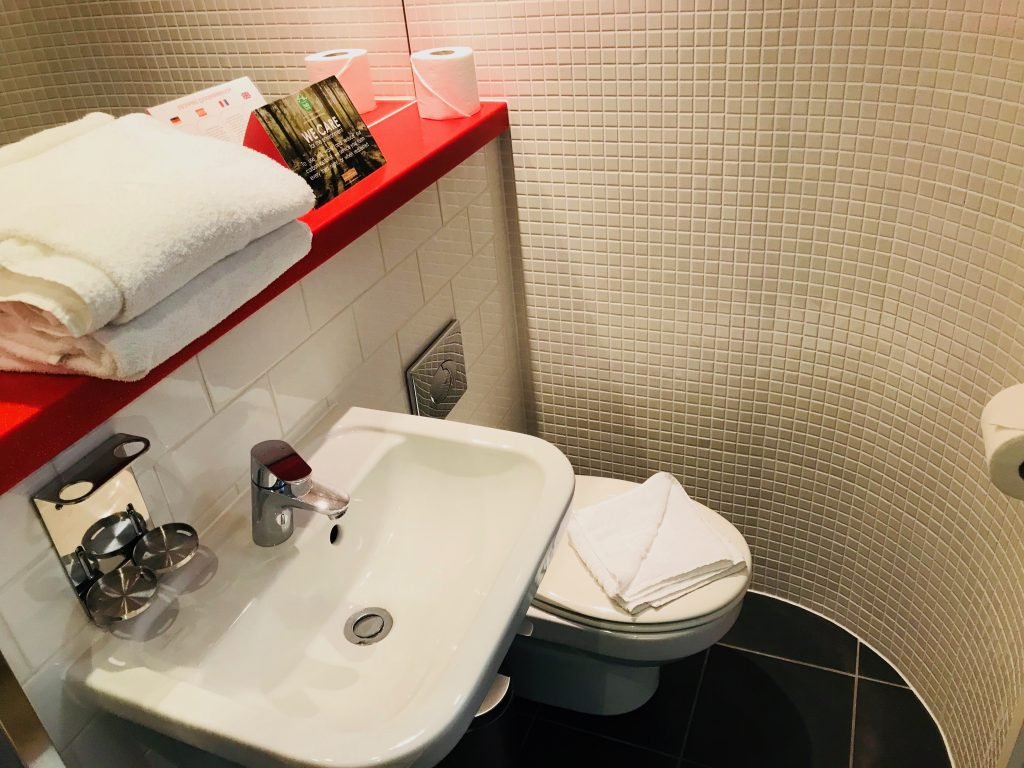 I am not ashamed to admit that I spent 70% of my stay in pyjamas. Even though I had packed for a year. What use is blogging if I can't do at least a little bit of it in my jammies? This meant spending an awful lot of time in the hotel which again, was a great change of scenery. However, the Haymarket Hub is more of an explorers hotel. It is comfortable and has absolutely everything you would need and more, with its Handy free calls and data. The bed is very comfortable, there is parking and the amenities nearby are excellent. Everything you need for a good root around the Scottish capital. At between £50 and £100 per night, this is very cheap for being so central.
Hoppy Haymarket
This has absolutely nothing to do with the hotel but is pretty hilarious. Only in Scotland would the air smell like lager. Usually I find the same thing happens when I am hanging out anywhere near the Tennents factory in Glasgow. In the Scottish countryside, you find some of the freshest air found anywhere on this world. However, in the cities, we just love our booze. Whilst out for coffee and popping to the shops, I noticed the smell of hops in the Haymarket air. However after initially smelling it, I stopped noticing so I was probably drunk of the air or the variety of gins I consumed. Let's blame the air.
We would like to thank the Haymarket Hub Hotel for inviting us down to Edinburgh to experience their hotel.
You can book this hotel here.
The Haymarket Hub Hotel site – haymarkethubhotel.com