Awesome Sights in Cruden Bay
Traditionally the name Cruden derives from the Gaelic 'Croch Dain' which translates to 'the killing of the Danes,' following a battle which took place in Cruden Bay in 1012 between the Scots and the Vikings. Don't let that put you off… Cruden Bay is a beautiful, coastal village hidden in the depths of Aberdeenshire. Yet it is only a 10-minute drive from Peterhead and Ellon, both of which provide all of the amenities you could require during your stay. If you are looking for a fairly undiscovered area packed with impressive sights, wondrous walks, great golf and some really tasty food then Cruden Bay is the place to visit.
Cruden Bay Beach
There are many beaches in Aberdeenshire and some of them are really quite breath-taking. Cruden Bay beach sits directly next to Port Erroll Harbour. It is a massive stretch of completely unspoiled beach which is 2.5km in length. This makes it perfect for those enthusiastic 5k runners, unfortunately, I do not fall into that category. Unlike Aberdeen beach, this beach is much quieter as it is in a small village and not so many people are aware of it.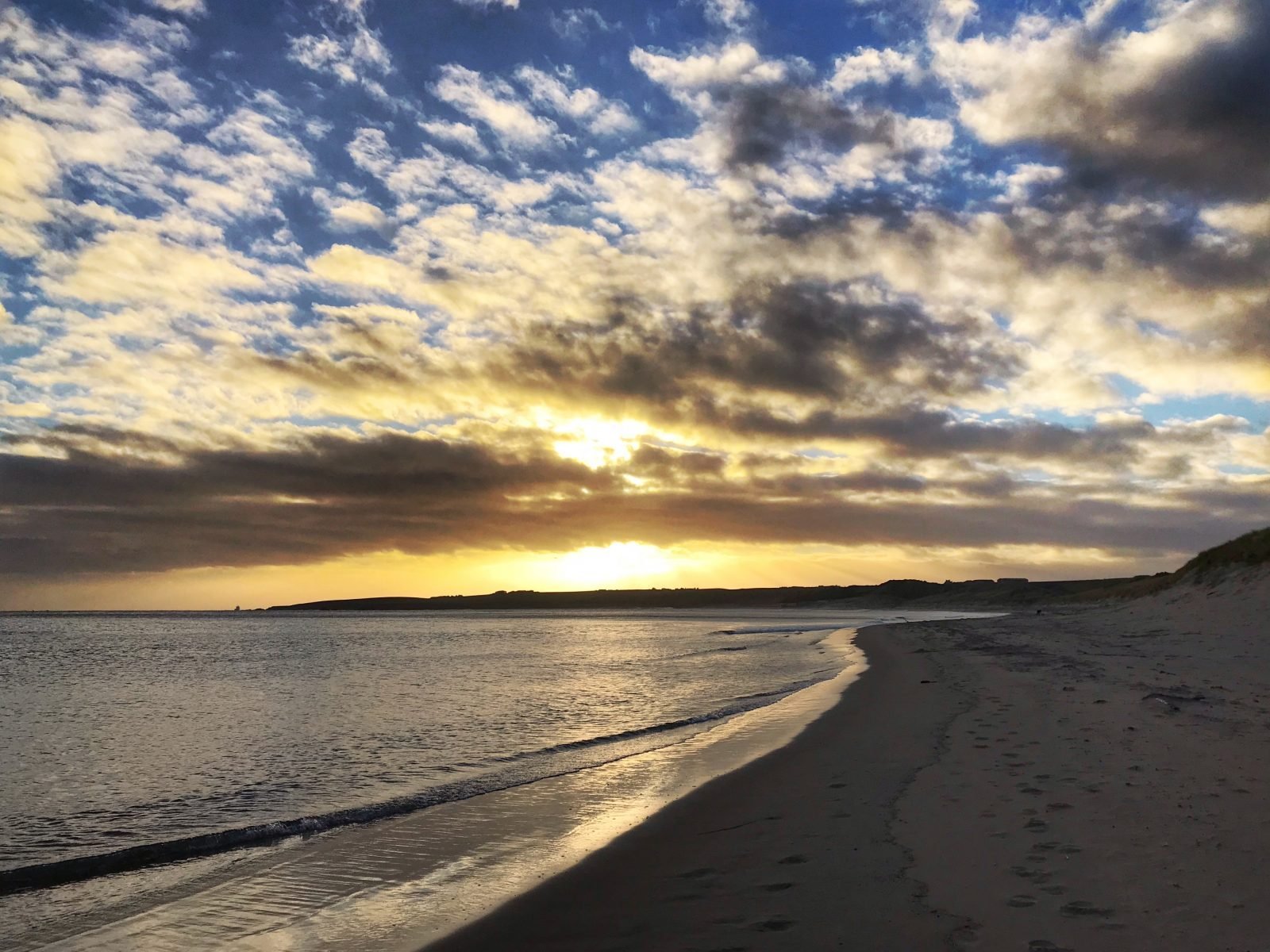 Ladies Bridge 
The beach is accessible via 'Ladies Bridge' which was originally erected in 1922 following a petition by the local ladies of the village. You can see they were imaginative with their names. Ladies Bridge was replaced at a cost of £178,000 in 2015 as the 93-year-old bridge was becoming a health and safety issue. It takes you over the water of Cruden to the award-winning beach and sand dunes.
Even with the tide in, you can still visit the beach without the worry of becoming stranded. When the tide is out, you are more likely to be successful in your hunt for treasure. The tide leaves behind a mass of sea life such as jellyfish, razor clams, seaweed and crabs. This is great for educating the little ones in your family. There is quite often driftwood left on the beach which is great for both crafting and keeping your doggy friend entertained, just make sure your dog does not have a taste for jellyfish!
If you are looking for a really heavy cardiovascular work-out or you have a dog that likes to get particularly messy then be sure to check out the sand dunes beside the beach. The dunes divide the beach and the golf course and provide some really impressive sightseeing.
There is a sign beside the beach which provides real-time details on water quality for swimming. Directions to Cruden Bay Beach can be found on the VisitScotland website.
New Slains Castle
There is an abundance of dramatic castles in Aberdeenshire. When visiting Aberdeenshire, you can go on a castle trail which will take you around many of them. Slains Castle is a cliff-side castle overlooking the North Sea. It is perfectly safe to walk around the ruins however you must take care at the cliffside. 
Slains Castle is actually known as New Slains Castle as there was a previous castle nearby now known as Old Slains Castle. Old Slains Castle was built in the 13th century and was given to Sir Gilbert Hay by Robert the Bruce to say thank you for his support against the English. However after Frances Hay led an unsuccessful rebellion against James V1, the castle was blown to bits. Unfortunately there is very little left to the Old Slains Castle and Frances Hay was sent into exile. When Hay returned from his unwanted holiday, he built a new Slains castle and this is the one that still stands on the cliffs at Cruden Bay.
Dracula's Castle 
Most haunted castles in Aberdeenshire have their own story to tell. New Slains Castle is no different. The famous Bram Stoker's 'Dracula' takes much inspiration from New Slains Castle. Bram Stoker liked to visit Cruden Bay back in the 1890s and he is said to have taken his inspiration for the Dracula Story from the dramatic castle. He was often a guest at the Kilmarnock Arms Hotel in Cruden Bay. They have Bram Stokers signature on a signature book which is kept in their safe and have recently had a commemorative plate added to the hotel's exterior. The Dracula story is incredible but spooky nonetheless.
The haunted tales do not end there however…
There have been sightings of soldiers on horseback marching up to and around Slains Castle.  There is no doubt that New Slains Castle holds a lot of mystery and hidden tales.
WW2 Bunkers
Beside Port Erroll Harbour there is a wooden staircase which takes you to the cliffs. These cliffs lie between the sand dunes at the beach and New Slains Castle. As you walk along the cliffs, you will be able to take in the impressive sights of the rocky cliffs and the North Sea. There are remnants of WW2 bunkers which are completely accessible. Imagine the cold that these soldiers would have felt whilst working on these cliffs with full exposure of the North Sea winds. There are also ladders which lead down to what looks like a black hole, very similar to those in horror films. These actually lead down to the communication bunkers that the soldiers would have worked in.
Is it any wonder that there have been ghost sightings here?
St. Olaf Hotel 
After all this exploring, you may be hankering for a hearty, comforting meal. It is essential to top up your energy levels in order to continue with your exploring of the area. The St. Olaf Hotel provides wonderful, home-cooked food at extremely reasonable prices. The St. Olaf Hotel is a family-run hotel in the middle of Cruden Bay. The staff are very friendly and are more than willing to provide you with advice on the area. Chicken Maryland is a favourite however the whole menu is pretty delish! The portions are huge. Their dessert menu is one of the saints. I recommend the Mint Aero or Malteaser cheesecake as you will not regret it!
Bullers of Buchan
This is a fantastic area to visit if you are looking for breath-taking, impressive views. Bullers of Buchan is a vertical cliff edge with a collapsed sea cave. The sea cave makes for a lagoon-like area in amongst the cliffs. Due to the hole in the cliff where the sea cave was, the waves can be quite wild. Please be very careful when visiting Bullers of Buchan as there is no fencing between the paths and the sharp drops. It would also be advised not to take dogs up here and to keep a very close eye on young children.
The cliff face also attracts a wide variety of birds. If you visit at the right time, you can catch amazing sights of hundreds of puffins nesting. You will be able to watch them bring food back to their nests. They are very clumsy birds and watching them take off and land is really quite comical. The cliff edge also attracts other birds such as kittiwakes, guillemots and razorbills.
Walkhighlands 
Walkhighlands provides further information about the walks in the area. If you are interested in walking whilst taking in the glorious sights of the Aberdeenshire coast, there are 2 different routes available. Both of these are on the WalkHighlands website, the links are below.
Cruden Bay to the Bullers of Buchan Walk
Bullers of Buchan to Boddam Walk
Cruden Bay Golf Course 
Cruden Bay golf course is in the top 100 golf courses in the world. In November 2015, it won the Scottish Golf Tourism Award in the £50-£100 category for the best course in Scotland. This brings many tourists from all over the world to the course, particularly in the better weather. It isn't hard to see why the course earned this status. In addition to the main course, they also have the 9 hole 'St Olaf Course' which is very popular with visitors to the course.
It sits in a beautiful area, directly beside the North Sea. This enables you to see some spectacular views whilst playing the game. You will be able to look out to sea over the beach. There are also certain parts of the Course which provide excellent views to New Slains Castle.
If you are interested in visiting Cruden Bay Golf Course during your visit to the area, please see the below link. This provides contact details if you have any other queries. Plan your visit on the Cruden Bay Golf Course website.
Kilmarnock Arms 
The beauty of Cruden Bay is that everything is within walking distance. Even the non-golfer will be hungry after a day of exploring Cruden Bay. The Kilmarnock Arms is a traditional hotel in the village which is only a 5-minute walk from the beach. The hotel boasts a restaurant area, along with a lounge bar where you can also enjoy a meal. There is also a little bar next to the lounge which is perfect for enjoying a 'wee dram.' The earliest record of the Kilmarnock Arms hotel is in 1888 and they have visitor signatures from 1893. Bram Stoker was a regular visitor to the Kilmarnock Arms hotel, his signature was recorded in 1894 and this is available to view upon request at the hotel.
Not only does the Kilmarnock Arms hotel provide a cosy little nest for the night, but it also provides a wonderful meal. Although slightly pricier than the other restaurant in Cruden Bay, the 'St Olaf,' it provides a more bistro-style menu. This is perfect for tourists visiting the area as the food is locally sourced and wonderfully cooked. Should there be an avid whisky drinker in your party, the Kilmarnock Arms will not disappoint. They also have an endless whisky menu. Book your stay at The Kilmarnock Arms.
Folk Club
Cruden Bay is a little village steeped in history and beautiful sights, it is not famed for its nightlife. However, the Kilmarnock Arms holds 'Folk Night' on the last Friday of every month. Should you be interested in folk music then this is the event for you. Most of the people who perform at Folk Night are not professionals but instead just locals to the area who take the chance to perform where they can. If you are a keen singer or even just like to attempt singing after a few whiskies then this is the place for you. It can be quite haunting listening to folk music whilst sitting in the same place where Bram Stoker may have imagined Dracula. Spooky…
Newburgh Beach, Newburgh Seals 
The Newburgh seals are more local than the locals. Newburgh is a little village only a 10-minute drive from Cruden Bay and it is also accessible by bus. Newburgh Beach is very well known in Aberdeenshire for its abundance of seals, known as the 'Newburgh Seals.' This really is a sight to behold. Should you walk right along the beach, you will see hundreds (and I mean hundreds) of seals lying on the beach. There is a stretch of water between you and the seals which makes it perfectly safe to go and see them.
The Newburgh seals do act like they own the area and often play in the water which is lovely to watch. Please be aware that it is important to keep dogs on leads and out of the water and not to approach the seals up close.
The North Sea from Port Erroll Harbour
Should you be tired from visiting all of the lovely local hotspots, you can always relax at the beach or hunt for sea glass. Why not take a seat at Port Erroll and just enjoy the sights? There is a lovely little library in Cruden Bay if you are looking to read up on the local history.
Alternatively, as Aberdeen is the hub of North Sea Oil and Gas, there are often helicopters flying back and fore over the sea. This is perfect if you have children who you can spot the helicopters with. There are also boats which can be seen throughout the day. The North Link Ferry crosses to Orkney around 6 o'clock every evening and you can watch this from the beach.
Local Amenities 
Cruden Bay is a little village but it still has everything you may need if you are visiting. There is a little shop near the beach which is open every day. The village also has a Post Office, Pharmacy and Doctors Surgery. Hopefully, you will not need to visit the Doctors whilst you are here! There is also a little Chinese Takeaway named Umi which does not deliver but is within walking distance of all of the hotels and B&B's within the village.
Visiting in Cruden Bay
Overall, the village really is a hidden gem in the North East of Scotland with some really great sights to explore. Be sure to stop into Cruden Bay if you are visiting the area as you will not be disappointed.