The Capital of the Highlands, Inverness to Skye
It might of been a chilly, snowy, slightly Baltic day but Rabbies Tours had agreed to put up with us all the way from Inverness to Skye via Eilean Donan Castle and back again. More fool them…
Inverness is a very popular city with explorers as it is an epic base for touring the Highlands and Western Isles. Inverness is known globally for its links to Loch Ness. However there are many an epic jaunt from the Highland capital and for those who are more for whisky than getting frisky, there are plenty of 'hop'portunities to discover distilleries and scenery. We might not have had a dram (until later) but we were definitely awa' on a Heilan' jaunt.
Rabbies Tour Time Sunshine
Getting up at 6am on a Sunday was a shock to the system and although I might have looked traumatised, I was in a fairly good mood. Scott was not. Thankfully, I had organised everything the night before, so off we jollied to Inverness bus station with a packed-lunch full of cheese-strings in hand. Inverness at 7am in winter gives you chilly ba's.
Duncan, our tour guide arrived in his cosy wee Mercedes bus at 7.45 sharp. I was delighted to see such a warm, welcoming, chauffeur. Duncan wasn't too bad either. We were soon out of the cold and getting settled on the bus which BY THE WAY, has USB ports. Considering iPhone batteries now last -3 minutes, this was beyond helpful. As Duncan drove through Inverness, I took the time to wake up. As I grew up in Inverness, I already know a fair bit about the place so I didn't feel too bad for dosing. For Inverness newbies however, you can pick up a lot of info from your tour guide.
The Loch Ness Monster
'The important thing is, I believe in myself'
Our first stop on the Inverness to Skye tour was at the world famous Loch Ness and by this point, I was bright-eyed and bushy tailed. I have many a happy(ish) childhood memory of swimming in the famed loch. I say 'ish' because I used to swim out quite far before freaking out that Nessie was going to eat my legs. Standard childhood problems when you grow up as a Highlander. Duncan was pretty swell in giving everyone the low-down on the Loch considering we don't have any 'actual proof' of the monster as such… Although many a tourist to Scotland has seen a wild beast in these here parts (mostly the men).
Urquhart Castle sits on the edge of Loch Ness so even if the monster's sleeping, you can still check out the epic views as well as learning all about the bloodied history attached to the castle.
Invermoriston Falls into Winter
Duncan wasn't shy of a little tune. Whilst he focused on the roads, he stuck on one or two catchy Disney numbers. He told us that his 4 year old daughters playlist had 'accidentally' slipped on (he thinks we were born yesterday).
We pulled into Invermoriston which was a total winter wonderland. I'd like to say I had the elegance of Elsa in Disneys Frozen but I was more like Sven the deer. Invermoriston is a tiny wee place with a beautiful waterfall and some very bonnie bridges, one of which was constructed by Thomas Telford and is aptly named 'Telford Bridge.' Fancy a walk in the Highlands? Invermoriston is your place. The walks are extensive and attractive.
Glenmoriston, Glenshiel and Strath Cluanie
The Rabbies tour from Inverness to Skye runs through a diverse, wild landscape of glens and lochs. In the snow, the views across the glens are absolutely phenomenal. I spent most of the journey to Skye with my nose plastered to the window trying to spot deer (in which there were hundreds). The lochs were frozen and the valleys were like powdered pyramids. As we travelled further westward, the terrain began to shift from fertile and gentle to rough and jagged. The strong winds followed suit, carrying an eerie dust from glen to glen. Duncan told the story of the Highland Clearances which only added to our atmospheric surroundings. Many a man would of stood to defend his place in these glens whilst battling such tough elements. We were in the shelter of a cosy Merc. How the times do change.
A 'head' of the game
After the Battle of Culloden, Charles Stuart, also known as Bonnie Prince Charlie, headed for the hills. He was a wanted man and the British Army were like hungry foxes to a bare-bummed chicken. With a £30,000 ransom, he barely managed to stay ahead of his predators. However not one of his loyal supporters handed him in.
Charlie headed for Glenmoriston where he was taken in and hidden by Clan Grant. Unfortunately the British Army had caught up with the clan and demanded that they hand over the Bonnie Prince. So they did… Well at least that's what the British Army thought. His head was severed and brought back to Fort William for bounty. The authorities in Fort William took one look at the head before exposing that it was not that off the Bonnie Prince.
Little did they know that one of the adopted clan men, Roderick MacKenzie who was originally from Edinburgh had claimed to be the Bonnie Prince and had given his life for the cause. One of the British soldiers at Fort William heard this story and took the head back to Glenmoriston where he re-attached it to Rodericks body before burying him in the Glen. Bonnie was never caught but Roderick MacKenzie was recognised as a very brave and loyal man.
Eilean Donan Castle
Although the Rabbies tour travels from Inverness to Skye, it also stops at Eilean Donan Castle, one of Scotlands most photographed castles. The scenic castle has played film-set to movies such as Highlander, The World is Not Enough, Loch Ness and The Wicker Man. Eilean Donan was actually destroyed in a battle in 1719 and was not rebuilt until 1900. Even then, the castle wasn't completed until after World War 1 as many of the men working on the castle went to fight in the war and never returned. A memorial now stands by the castle in memory of those lost. Lest we forget.
Highlights from Skye
After stopping at Eilean Donan Castle, the weather started to get a little bit less 'typical Scottish Winter' and a little more 'we could end up in the Atlantic' and so we bypassed Kyle. Both Scott and I were excited as we crossed the Skye Bridge, eager to explore the Winter Wonderland ahead. After stopping to feed carrots to some Highland cows (because Duncan is prepared, what a legend), we continued onto Portree.
Portree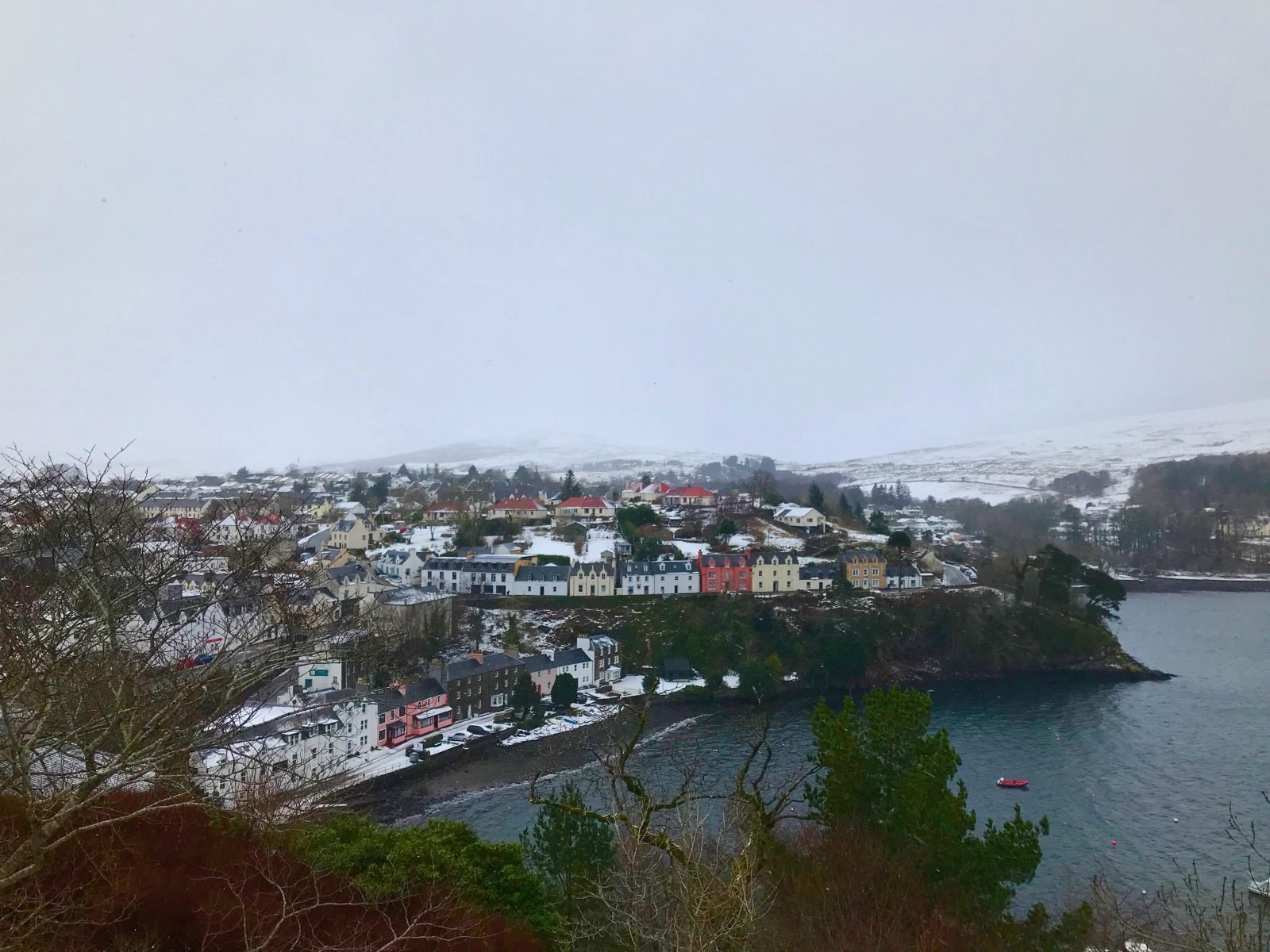 'Portree booted in the door, he sauntered tae the bar
He poured a shot ay Crabby's, he shouted 'Slangevar' – The Corries

It was rather freezing in Portree when we arrived and as I still don't know how to dress for a Scottish winter, I was pretty much soaked to the socks. However it was absolutely worth it to be able to enjoy such amazing views over the little village. Even amongst the snow and cold, the painted houses stood out like a fiver in a puddle. I can't think of anything better than arriving here on a Summers day and strolling along the harbour with an ice-cream or some freshly cooked fish. However, we were Portree tourists in Winter so we stepped out of the cold and grabbed a warm seat in The Caledonian Cafe for some scampi and chips. The best scampi and chips I have ever had.

On the road up to Kilt Rock, we stopped in a lay-by to take in the beautiful little Brides Veil Waterfall. Duncan had taken sledges with him for those who could brave the icy winds and knee deep, snowy climb. Somebody really should have filmed me climbing up that hill for You've Been Framed. It was a case of one step forward, three falls back and by the time I got to the top, I resembled a sexy snowman. Again, I didn't expect myself to have as much fun as I did. Every step resulted in me laughing even further, like some sort of lunatic.
From the top of Brides Veil, you can usually see the well-known Old Man Storr, however it was far too snowy during our trip for us to see it. What a terrible shame, it looks like we are going to have to do Inverness to Skye round two.

Perhaps my favourite part of the whole trip was heading upwards from the Trotternish penisula towards the Quiraing. The Quiraing is a massive landslide which has created high, jagged cliffs, hidden dips and sharp, patterned rocks, scattered with waterfalls. It is in essence, a slice of Scottish heaven and some of the best scenery I have ever seen in my life. There is something very romantic and slightly dark about this landscape. The snow made the scenery look almost foreign, convincing me I was no longer in my home country.
Collect Moments, Not Things.
Rabbies Terrific Tours
After stopping once more in Portree for a coffee and a quick pee, we were on the road home. I felt myself dosing off as I reminisced about a wonderful day spent in what felt like a dream. Duncan was a superior tour guide. He treated us less like tourists and more like friends as he shared his endless enthusiasm. The bus was very cosy and comfortable which is what we needed after getting soaked at least 12 times in the wild snowfalls.
Skye is a very special place, where fairy-tales merge with reality. I very much look forward to returning in the Summe. When I do, I will be doing it with Rabbies Tours.