I took the aye road, and then took the low road. I still arrived at Loch Lomond in tiiii-iime. Then me and my true love went for a freezing dook, by the bonnie, bonnie banks of Loch Lomond. It had been over 2 years since we'd last visited the Lodge on Loch Lomond Hotel and maaaan, was I happy to be back?!

Last time I kept my feet on dry land as I was not the brave and ballsy loch swimmer that I am today. This time, I was raring to go. As so many of you lovely critters may have noticed on our Instagram. I barely checked-in before I was out the door and neck-deep.
The Lodge on Loch Lomond Hotel
Last time we visited the Lodge on Loch Lomond, we stayed in The Travis Suite and honestly, we have such fond memories of that trip. We had visited in the Winter and had brought a brand new Mini Countryman with us, courtesy of John Clark in Aberdeen. Though it was chilly outside, it made for perfectly cosy nights in the suite. The Travis Suite was lush. It was spacious, comfortable, cosy and kitted out with essentials like a large corner bath, a four-poster bed, and prosecco (of course).
Although the last time we arrived, it got dark at like 4pm, so we didn't get to experience the view in all it's marvel until breakfast the next morning. We certainly did not make the same mistake this time. If you're planning on visiting either the Lodge on Loch Lomond Hotel or any of the gorgeous chalets, arrive sharpish. You don't want to miss that view for even a moment.
Pew with a View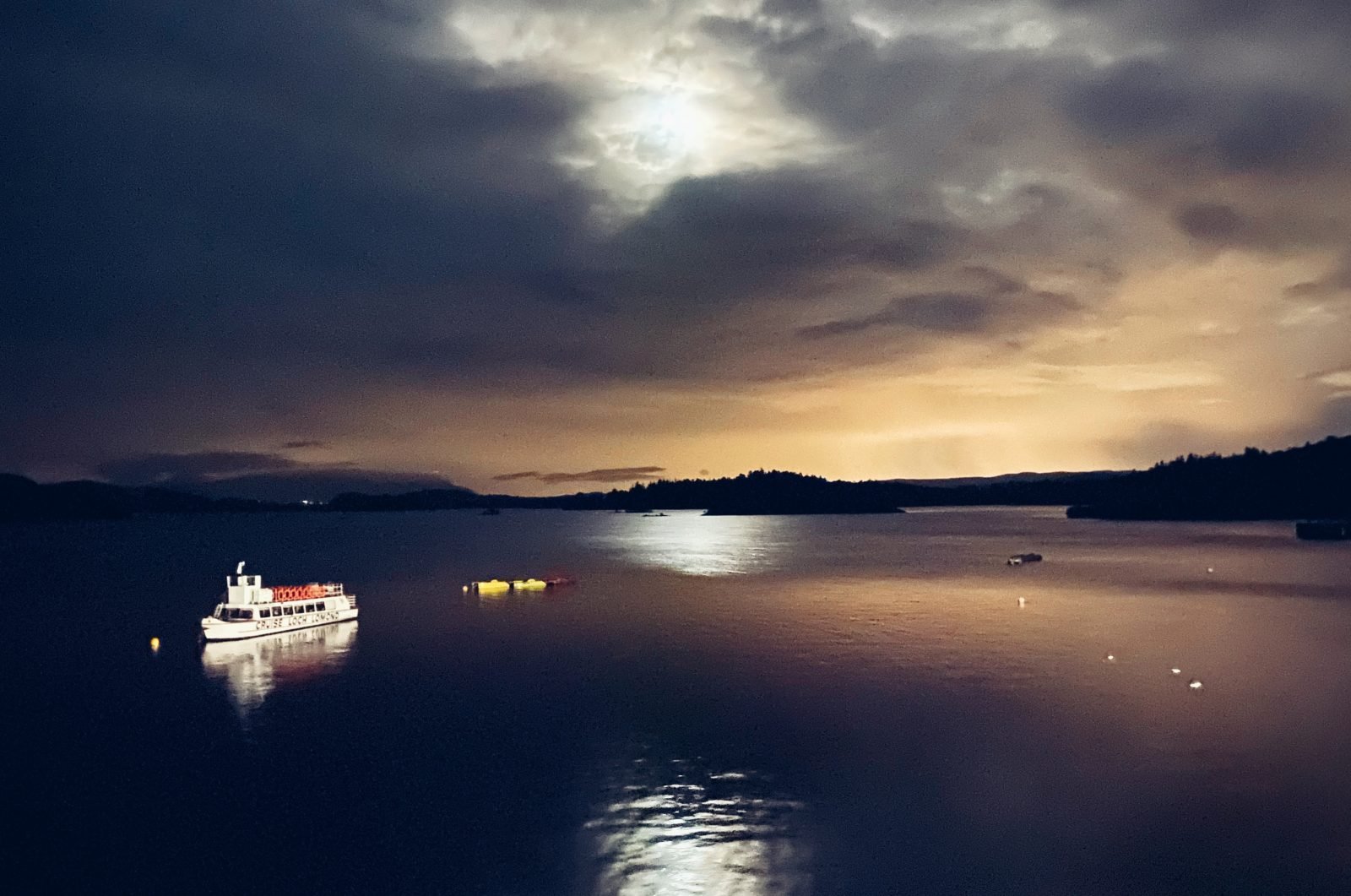 I didn't know what I was expecting but I knew it was going to be good. And memory certainly served me well. Even when visiting the hotel in these strange times, the Lodge on Loch Lomond was still the ultimate escape I remembered it being. I wasn't sure how the hotel was going to top The Travis Suite but wow, they certainly pulled the rabbit out of the treasure chest. As soon we walked in, I flew straight past the welcome bubbles, out the door and onto our gorgeous private balcony which was kitted out with decking and rattan furniture. We were staying on the first floor and had the most wonderful view of Loch Lomond. The weather had played in our favour and the Loch was as still as glass. Well, until I jumped in feet first that is…
Sauna Sandra
The balcony was enough. No really, the balcony was all we needed. I may add, we didn't know we needed the balcony until we saw the balcony and then we were like, "how have we ever not had this?" It was awesome. Truly awesome. It was "late into the night" awesome. It was "breakfast by the loch" awesome. Just awesome. Then we went into the bathroom for a nosy and of course, there was a sauna. Our own personal sauna. Because, well, why not?! I shouted Aye 2.0 through to the bathroom cause "he had to see this" and we just kinda looked at each other. What do you even say when you find a sauna in your bathroom? Why does this not happen to me at home?
Ironically, we didn't use the sauna all that much, we were only there for one night and we packed our itinerary so full that sauna breaks weren't accounted for. We could have skipped the run on the beach, and the evening swim and the morning run to Luss from the hotel. But honestly, it was beautiful and Autumnal that I am glad we never. The sauna did come in really handy for drying our sodden swimming costumes though.
Wine and Dine
Lesson learned from last time; book dinner in daylight! We enjoyed dinner at Colquhuon's Restaurant which overlooks Loch Lomond. If you've got it, flaunt it. Dinner was a bit of a seafood fantasy for me; crab and apple salad and sea trout in a shellfish sauce. If you are staying at the Lodge on Loch Lomond hotel and are looking for foodie inspo, head over to our Colquhuons restaurant review.
Balcony and Breakfast
The hunger in my belly was the only reason I eventually peeled myself of the crispy, soft, wonderful sheets and even then, it certainly wasn't easy. The most painful goodbyes are those which include luxury and fine fizz. Breakfast on the balcony was a delight. There was a large buffet to pick from including cooked and continental but with the current pandemic, breakfast is table service only, or in our case, room service only. If I told you that I never eat any croissants after a full cooked breakfast then I would be telling massive lies. I eat 3. Not Sorry.
Lodge on Loch Lomond: Stuff You Need To Know
Try and arrive as early as possible, you will want to spend all the time here.
Book a longer stay, who needs reality?
Try and book dinner during daylight, that view is insane.
Book the Travis Suite so you can say you stayed in the same room as that 'famous and slightly odd Scottish Blogger.'
Failing that, any room will do. The place is splendid.
There is SO much to do around Loch Lomond including water-sports, a sea-life centre and even cruises on the Loch (as I so delicately shared in my swimming snaps).
Most importantly; smile, relax and have fun. The Lodge on Loch Lomond hotel is very special. You can book your own luxury Loch Lomond here.