A Grand Afternoon
'If you want to view paradise, simply look around and view it. Anything you want to, do it. Want to change the world? There's nothing to it' – Willy Wonka
Meet the Distillers is an event of great significance at Tales of the Cocktail. More than 50 distillers from far and wide take to their booth to allow us drinkers and spirit thinkers to taste their exotic elixirs. Being up close and personal with a variety of new and old, foreign boozers is best experienced when thirsty. Unfortunately my partner in crime was more on the peckish side so he rambled off to hunt out canapés whilst I showed face, grace and most importantly, pace!
The Sheraton Grand Hotel in New Orleans was the prime spot for juicy shots. Both its central location and polite grandeur made it the perfect backdrop for a spirits showcase. The event was held in the Armstrong Ballroom, named after local legend, Louis Armstrong. I have picked the best out of my wonderful world at Meet the Distillers to share.
Black Button Distilling
Black Button Distilling are covering every side of the pitch in their spiritual game play, including vodka, whisky, bourbon and gin. However our hearts were pumping passion for their Bourbon Cream.
Bespoke Bourbon Cream can move in to my house and live there for the rest of my days, although it wouldn't last very long… Bourbon Cream is similar to an Irish Cream liqueur but packs considerably greater flavour magic. We have agreed that we would be in seven states of bliss, consuming this by the fire on a Winters evening. Although to be honest, we wouldn't discriminate to the rest of the year. I would like to get my hands on a bottle of this purely to pop a straw in it. Although, this adaptable boozer could smooth a cocktail and make a wonderful dessert. 50ml mini bottles are available for presents for me, thanks in advance.
Bumping in to Black Button President and Head Distiller, Jason Barrett was an absolute privilege. His story is very inspiring, proving that it is possible to bring up a brilliant brew without the complex budget and show off tactics. Also, Jason, my address is available upon request – you have some flavour-able fans in Scotland who cannot wait to play with your perfect punch.
Louisiana Cane Juice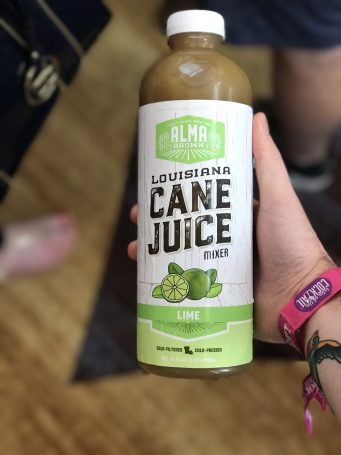 It is no secret that I am a fan of the cane, the sugar cane, to be more accurate… Louisiana Cane Juice is grown from the fertile soil of the Mississippi River and what a love story. I slightly wish I owned the product so I could go wild on the marketing budget. However, where would be the fun in that? Getting to enjoy the fresh, sweet notes from this magic mixer will be adequate enough for the moment. Although, I will miss its regularity upon my return to Scotland. Loch Ness nor the North Sea have the soil required for sugar cane growth. You can find out more about my Lust for Louisiana Cane here.
Rebecca Creek Distillery
The Rebecca Creek Distillery is one of North Americas largest craft distilleries and is based in San Antonio, Texas. As a Scottish person, I find it difficult to discuss whiskey with an e but for the sake of the talent behind Rebecca Creek, I will make do. Rebecca Creek make a range of premium spirit profiles, primarily within the whiskey and vodka fields. One specific vodders that caught my eye was Enchanted Rock.
Enchanted Rock Vodka
When you are from Scotland and unless you have been to Texas, the likelihood is that you will never have heard of Enchanted Rock. Enchanted Rock is the largest pink granite rock hill in the United States.
It can be found 18 miles North of Fredericksburg and is loaded with myths and legends. One of the more prominent stories was that off the Tonkawa Indians. They thought that they could see ghost fires flicker at the top of the dome and hearing the odd groans through the night gave them chills. Apparently, Geologists say that the mythical rock groans and creaks as the temperatures change. I think Geologists are wrong and the rock is just pure haunted. Either way, have you had a better story behind a vodka name before?
Enchanted Rock Vodka is 100% corn based and therefore, completely gluten free. The earthy taste and unique branding pays homage to the incredible Enchanted Rock landmark. So I would like to thank founder Steve Ison for not only introducing me to his Vodka but also for tempting me to Texas. Oh yeah, for the record, they make it in peach flavour and I am peachy keen!
Woody Creek
There's a lot of creeks in these here parts. This is one creek you are going to want to take a dip in, so to speak. Woody Creek boast the slogan 'The Return of Real.' I can personally relate to this as there is nothing more real than these here words. Sorry, I will stop speaking like a Texas Ranger, I have seen too many movies.
Woody Creek are aiming for the best vodka in the world and all I want to do is bathe in it. Maybe not bathe, but I would like to see what kind of cool cocktail creek I can create back home in Cruden Bay. The Vodka is 100% potato voddy, made in their land only a few miles from the distillery. It is superb but apparently it isn't just me who thinks this. The San Francisco World Spirits Competition awarded them a Double Gold for best vodka in 2015. One Gold obviously didn't suffice. Along with the superbly showcased vodka, was a rye and their newly released and the strongest gin I have ever tasted. We will certainly be keeping an eye on Woody Creek.
Boozing for a cruising
Along with some of our favourites were other booze beauties from Glencairn Crystal, the Cane Land Distilling Company, Roulaison Distilling Co and the Japan Sake and Shochu Makers Association, amongst others. The Japanese Sake and Shochu blew my head off. It wasn't until this point that my partner in crime rejoined me from the kitchen door, as the canapés started to dwindle. He took a sip of the sake and his face hasn't been the same since.
Meet the Distillers Happy Hour is a wonderful opportunity for any industry enthusiasts looking to get under the noses and tongue tasting some very special spirits and we enjoyed every minute.
Tales of the Cocktail
We love our Tales of the Cocktail friends for inviting us to the event to venture further with our media magic. We loved you then and we love you now. Meet the Distillers is truly a remarkable event and one which gave us the chance to scope out a range of talent. As per usual, my opinions are interesting, relevant, amusing and mine, mine, mine.