May your cork always be loose
I thought love was only true in fairytales, meant for someone else and not for me. But I found spiced rum. And the rest is history. When I was a kid, I didn't want to be a ballet dancer or an astronaut-isist. I wanted to be a pirate. Not like a bad pirate. But a cool pirate decked out in lace with a neck weighed down by Spanish doubloons. I quite like the idea of standing at the helm of a ship, drinking rum and singing mad pirate tunes.
I can't tell if Aye 2.0 detests my dreams or secretly enjoys them. It isn't uncommon for us to be driving (sailing) away one of our aye-ventures and for me to have wild pirate music as our soundtrack… This happened on two occasions recently. Once when we headed down to Dundee for himself to get his haircut and for me to drink daiquiris at midday. And the other, on the way down to Dundee for Sailor Jerry tattoos. Yes. Dundee is where I keep my ship.
I love Sailor Jerry. Why? Because I can totally see myself shipwrecked in the Caribbean with 73 bottles of SJ stashed until I'm rescued, by Captain Johnny Depp (not Orlando, he seemed like a total pussycat in the Pirate films).
Work like a Captain, Play like a Pirate
I guess I kinda have become a pirate. Not like a bad pirate or anything. But like, a fun pirate. I don't have a ship yet and I can't actually get on a boat without sea sickness tablets. But I have got a house on the coast where I can see waves all day. Metaphorically, I am the captain of my own ship. Alongside the King. But he's too busy standing at the back of the ship getting pelted with salty waves.
I'm the boss at my own biz. I have had to tell a few people to walk the plank. And there's many who are out to sink my ship. My soundtrack is swashbuckling though. And I drink rum.
So over the last couple of weekends, I've been in my element. I've spent all week working hard, sailing the seas, finding buried treasure etc etc. And at the weekend, I've been hanging out with Sailor Jerry. What a time to be alive.
The Hard Grind
Our first pirate play weekend was spent at Hard Grind in Dundee, where Scott got his hair did. Hard Grind is a mega funky barber with cray flash art all over the walls, a solid brand and a really good crew of peeps. Seeing as I am not a bloke and was not getting my hair did, I did what any other pirate worth his weight in gold would do, I hung starboard and drank rum. Rum Daiquiris with a solid 10/10 kick in the jingles.
The remainder of the day was spent with a bottle of Sailor Jerry. And the rest has been forgotten.
Just Tattoo of Us
I had a whole week to get back on the helm, sail the rough seas and go head to head with many a black-bearded woman. No-one said this graft would be easy. But I persevered, knowing that there was art on the horizon. Another chance for our crew to be inked up by our favourite Norman Collins inspired flash art. So when Saturday arrived again and the cabin fever had lifted, just tattoo of us were once again, Dundee bound.
I didn't realise I could get seasick on land. But that very much happened for the first 5 minutes of my tattoo. It was at this point that I realised that it wasn't just Orlando who was a pussycat.
The guys at Carpe Diem managed to put up with my pathetic pirate patter. But it was not my finest moment. After the first 5 moments, I found my ballocks and the tattoo didn't seem so bad.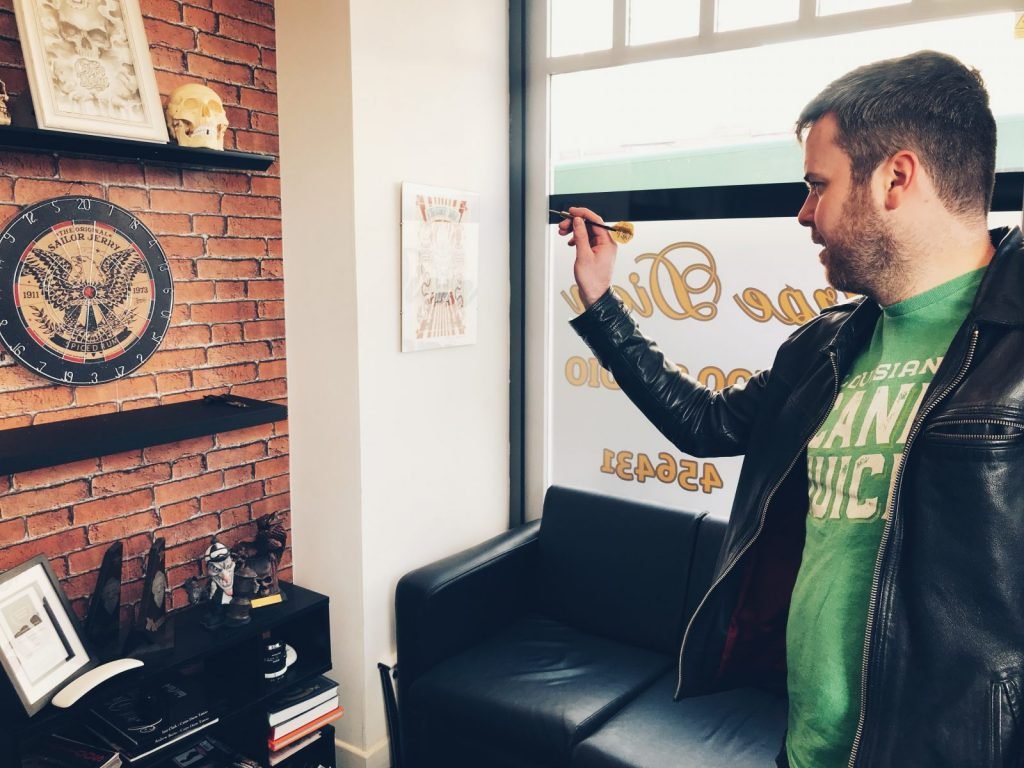 To add fun to the mad tattoo process, Sailor Jerry encouraged tattooees to hit a dartboard to determine their tattoo. I never because I didn't want to blind my tattooist. But Aye 2.0 did and out of nowhere, managed to hit his exact tattoo target. I think he went down in history that day. Check oot our tats…
It's a Pirates Life for Me
After taking over epic wee businesses and splashing wild art over three of Scotland's biggest cities, Sailor Jerry and this years Scottish campaign, #SJFollowTheFlash, was a resounding success. I need Sailor Jerry to move into my ship and set me up with an endless supply of sweet rum cocktails. Alternatively, I need to join their crew… Maybe one day I'll hop aboard their ship and they will welcome me as one of their own. Until then, Scotland needs you SJ, come back and never leave us again.