In the middle of the chaos of selling our house to live a more off-grid lifestyle, we were contacted by Nordgreen, a sustainable watch brand with a very interesting story to tell. The timing of their message couldn't have been more perfect. We have been downsizing to be able to fit all of our belongings in the boot of a car. Everything coming with us to our new life needs to fulfil a purpose.
We have spent too many years consuming cheap products that don't last and we end up replacing them all too often. This is not sustainable. It directly contributes to landfill waste. The things we buy now or even receive through The Aye Life must fill a purpose. They must make us genuinely happy, be sustainable wherever possible or support small businesses. We know that this won't always be possible, but we want to do our bit, even if it is a little bit more of a costly investment. Quality over quantity as they say.
Nordgreen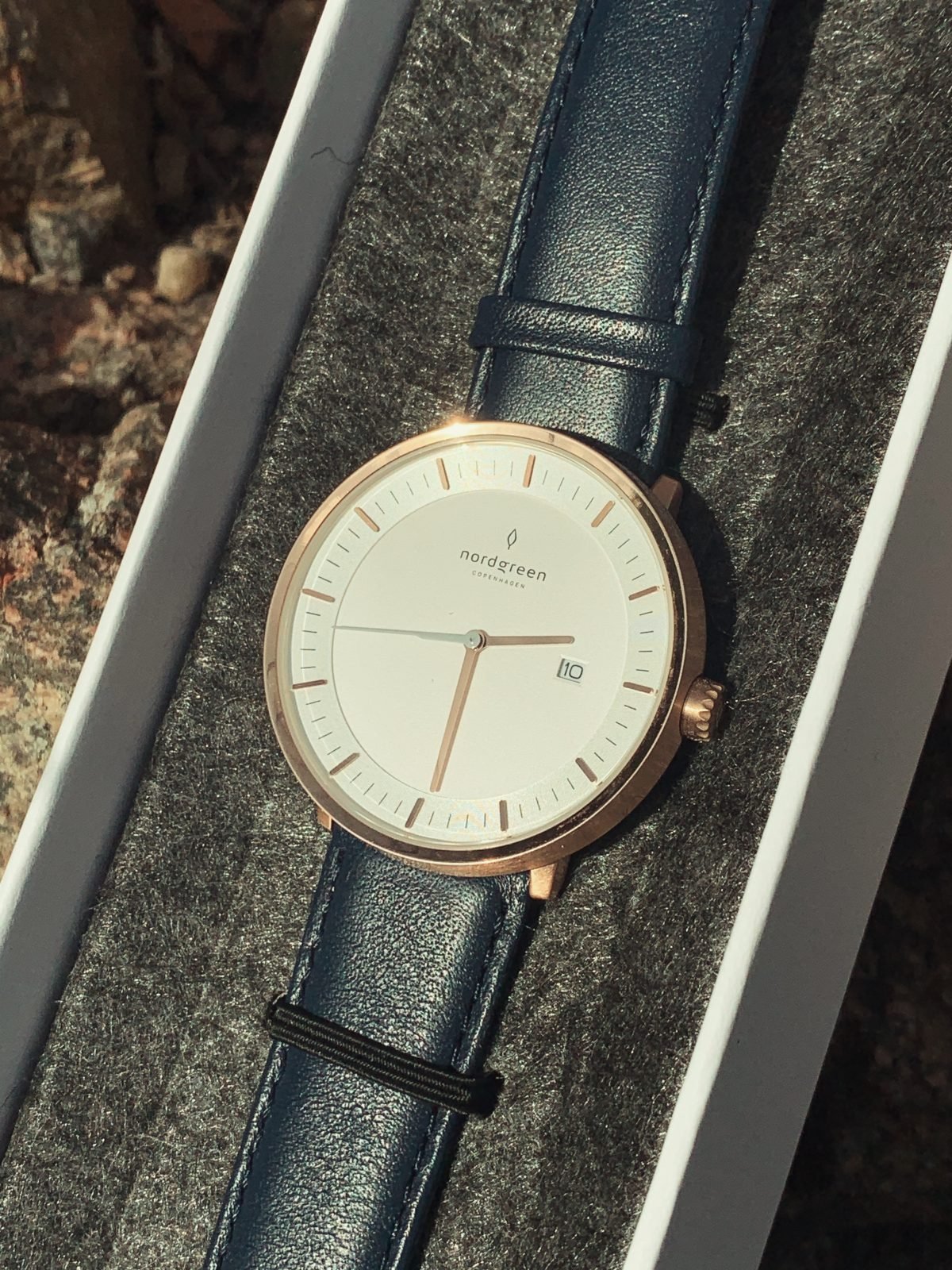 Is it just me that loves all things Scandinavian? I love their minimalist naturistic lifestyle. My Pinterest boards are painfully Nordic. Would you even know I was Scottish by looking at them? Although, in saying that, I think Scandinavia and Scotland are somewhat similar. We both have those dramatic, mysterious landscapes, and we both advocate for connecting with nature. It's just that Scandinavia has taken it to the next level.
Nordgreen is a Scandinavian company with a huge emphasis on giving back. They have even made supporting charities a part of the purchasing process. This is the first time I have ever seen this. When you buy a sustainable watch from them, you pick a charity to donate a part of your purchase to. You don't pay anything more, but a charity still benefits. Can we just make every company do this? Imagine how much of a better world it could be. You might pay a little bit more, but you're getting a premium product, and you're contributing to a good cause. Nordgreen partner with Cool Earth, Pratham UK and Water for Good.
Isn't she lovely?
I mean, it does help that I am kind of completely in love with my new watch. It's just gorgeous. I toyed with the website for almost two hours, chopping and changing my mind. They have so many options! Scott is well jealous of my Nordgreen watch, but he wears an Apple Watch so I stopped buying him watches for Christmas around 4 years ago. I don't like a watch that pings every two seconds, my phone already does that enough lol.
If you are looking for the best titanium watches from a truly sustainable Scandinavian brand, check out Nordgreen. I can't wait to take my new baby on my travels with me. She has a firm place in my new life.