This post is part of a paid partnership with Aberdeen Inspired. Please see our Instagram highlight on @theayelife for many more photos and videos from Nuart Aberdeen.
Aberdeen
Aberdeen is a coastal city in the North East of Scotland. It is Scotland's third-largest city and one of the most historic. Aberdeen has been a settlement for over 8,000 years. The city is known by a few other names; Granite City being the most popular, due to the use of locally quarried granite used in much of the city's construction. Aberdeen has also been known as the Silver City with Golden Sands, again due to the use of naturally sparkly granite paired with the vast coastline.
Aberdeen is known as the offshore capital of Europe. But, as that industry declines globally, with the focus shifting to renewables, Aberdeen is finally being seen for all else it offers. During our recent visit to the city to cover Nuart Aberdeen, we saw a huge shift in the city centre. There is more art, more new businesses, more sustainability, and excitingly, much more development. Whilst the other Scottish cities have been cementing their place in tourism, Aberdeen has been quietly beavering away in the background creating something very special.
I must say, Aberdeen is really coming into its own which is really exciting to see. Even before considering the wealth of street art, Aberdeen has a lot to offer from a food, drink, and entertainment perspective.
Me and my partner lived in Aberdeenshire for 8 years, in a wee village North of Aberdeen named Cruden Bay. During this time, and through our love of exploring and writing about Scotland, we discovered a whole other side to Aberdeen, both city and Shire.
Nuart Festival
Nuart is one of the most exciting events to happen to Aberdeen. The festival started in Stavanger, Norway, before making its second home in Aberdeen in 2017. The festival brings some of the world's most acclaimed street artists to the city, once a year, to create and add to the city's street art gallery. The art has completely transformed Aberdeen's city centre.
Alongside the new art, there are lots of other events held in the city during the festival such as talks, tours, conferences and as we recently experienced, Fight Club, a boozy debate that rolls on till midnight. That was an experience. So, whether you plan to visit during the festival or not, check what else is on in the city. TECA, Aberdeen's largest venue, attracts some of the best musicians in the world. His Majesty's Theatre attracts many shows from London's West End. The recently refurbished Aberdeen Art Gallery is spectacular, if you are visiting during the festival you may see some of the talks there, but do make a point to visit regardless.
There are also comedy clubs, sports and much more. Aberdeen is not predominantly known for just one thing, the city is a melting pot of culture with Scottish and international influences.
But, outside of Nuart, there are also a lot of other pieces of street art in the city, such as the painted doors of Aberdeen. Having lived in the area for over 8 years, we had no idea of the scale of art in the city. If you aren't prepared with this Nuart map (and this guide), then there's a good chance you'll miss the wider offering.
The Best Tips for visiting Nuart Aberdeen
This guide is a long time coming. We've covered much of the city from a food and drink perspective, so we've got you covered with some of the best places to eat, drink and stay during your visit. We also have a guide to dog-friendly places in Aberdeen, check that out if you're bringing your furry friends. Aberdeen's Street Art is very dog-friendly and the dogs will love wandering the city with you. Alongside our dog-friendly guide, we also have a guide to Royal Deeside, one of my favourite parts of Aberdeenshire. Here are some of the tips for organising your visit to Aberdeen.
Where to stay in Aberdeen City Centre
This kind of goes without saying, but if you're wanting to cover as much artistic ground as possible, you're going to want to stay as central as you can. Any accommodation within 10 minutes walking distance of Union Street, Holburn Street, Belmont Street or Union Terrace, is going to be your best bet.
Personally (and I wasn't paid to say this part), I'd recommend The Douglas Hotel on Market Street, The Jury's Inn at Union Square Shopping Centre and the Craibstone Suites on Bon Accord Square. But, there are also a lot of apartments to rent on and around Union Street and Market Street. These are slightly more costly, but couldn't be better located to experience the city's buzz. If you're a keen walker and would like to experience a bit of luxury during your visit, Malmaison and The Chester Hotel in the West End are both really lovely hotels with great food offerings.
Great Places to Eat in Aberdeen City Centre
I've really had to work to cut this part down. Truth is, Aberdeen has a fantastic food offering which largely champions regional produce. This offering is growing by the day and I think Aberdeen could be a bit of a foodie force to be reckoned with in the coming years. Shiprow, a historic and maritime-esque area, next to the harbour, is growing in both development and popularity at the moment. This is a unique part of the city and one of my favourites. Ivy Lodge on Shiprow offers fantastic artisan pizzas in a really unique setting. At the weekend, the buzz there is brilliant. Within Ivy Lodge, there is the historic Workshop, a cave-like whisky bar, and also an Aberdam hole in the wall, offering epic loaded fries and other bangin' bites. This is a one-stop-shop for all your street food needs. The cocktails alone are worth going for.
A few of our favourite restaurants in Aberdeen city are Cafe Boheme, a French fine dining experience, and Six by Nico, Nico Simeones' North-East showcase. Both restaurants do justice to regional ingredients. If a tasting menu is on offer at either, don't say no.
The Pigs Wings, right next to Marischal Square, is another fab restaurant, born in Aberdeen and offering great good and greater cocktails.
The list really does go on and on but the city centre has a quality food offering. Maggie's Grill, Rustico and Molly's Bistro are also worth your time and money.
Best Bars in Aberdeen for Cocktails and Drams
Aberdeen was recently ranked as one of the best nights out in the UK. Having lived in Aberdeen in my younger years and having worked in a local pub, The Glentanar, I can't disagree. There are a lot of good bars in the city centre. Try some of these for size. For cocktails, you're looking at The Spiritualist, Orchid, Soul, 21 Crimes, The Tippling House and Dusk. For a wide selection of whiskies, go for The Glentanar, The Grill, The Wig or Malones. I'd encourage you to explore though, there are lots of great bars in Aberdeen. A wee tip; street art pairs really well with whisky and cocktails.

Be Prepared for Nuart Aberdeen
There is a lot of street art in Aberdeen. We walked for two days flat and still never covered it all. We found well over 100 pieces, both official Nuart and unofficial. Once you start looking, you'll find it everywhere. Don't make our mistake by wearing fancy shoes. Fancy shoes do not cut it when you're walking for days. My blisters are a testament.
Also, this is Scotland, and Aberdeen is coastal, so be prepared for the weather. The street art actually really pops after a shower. But walking in North Sea-induced winds and rain is just not fun. Take something waterproof and if the weather doesn't play ball, split your tour up by visiting any of the above bars or restaurants. Also, take a backpack, not a flash handbag. My arm was literally bruised from the amount of stuff I was carrying. Distribute that weight.
Go into the local tourist office, or check out VisitAberdeenshire's website before you visit. Aberdeen has so many quirks and a lot of ground to cover, and that's just the city! If you want to really make the most out of your visit to the North East, check out Royal Deeside and/or all of the fishing villages up the coast after visiting the city centre. There are so many gems.
Nuart Aberdeen 2022
2022's additions to Aberdeen's Street Art are some of the best yet. We saw street artists from around the world descend on the city leaving behind them works which will be admired for years to come, perhaps inspiring the next generation of budding artists.
Aberdeen welcomed artists from the UK such as Erin Holly and one of our own, James Klinge, from Glasgow. Both of which create striking public murals using individual expression. The city also welcomed Jofre Oliveras from Spain, whose works are influenced by his personal interests in social activism and self-sufficiency. He portrays realism and finds ways to engage the community with new contexts and creative use of space and materials.
Slim Safont, also from Spain, is a muralist and painter. Slim works predominantly in urban environments creating artistic interventions influenced by the types of people he encounters in daily life. He has recently been working on an oil painting which will be exhibited and then auctioned in New York in a project between Sotheby's and Burning Man.
But that's only the tip, Aberdeen has welcomed over 30 street artists from Europe, the USA, South America, Australia and the UK.
We explored both old and new pieces during our visit and in some cases, we saw the artists at work. Here are some of our favourite bits from Nuart Aberdeen 2022.
Martha, a picture story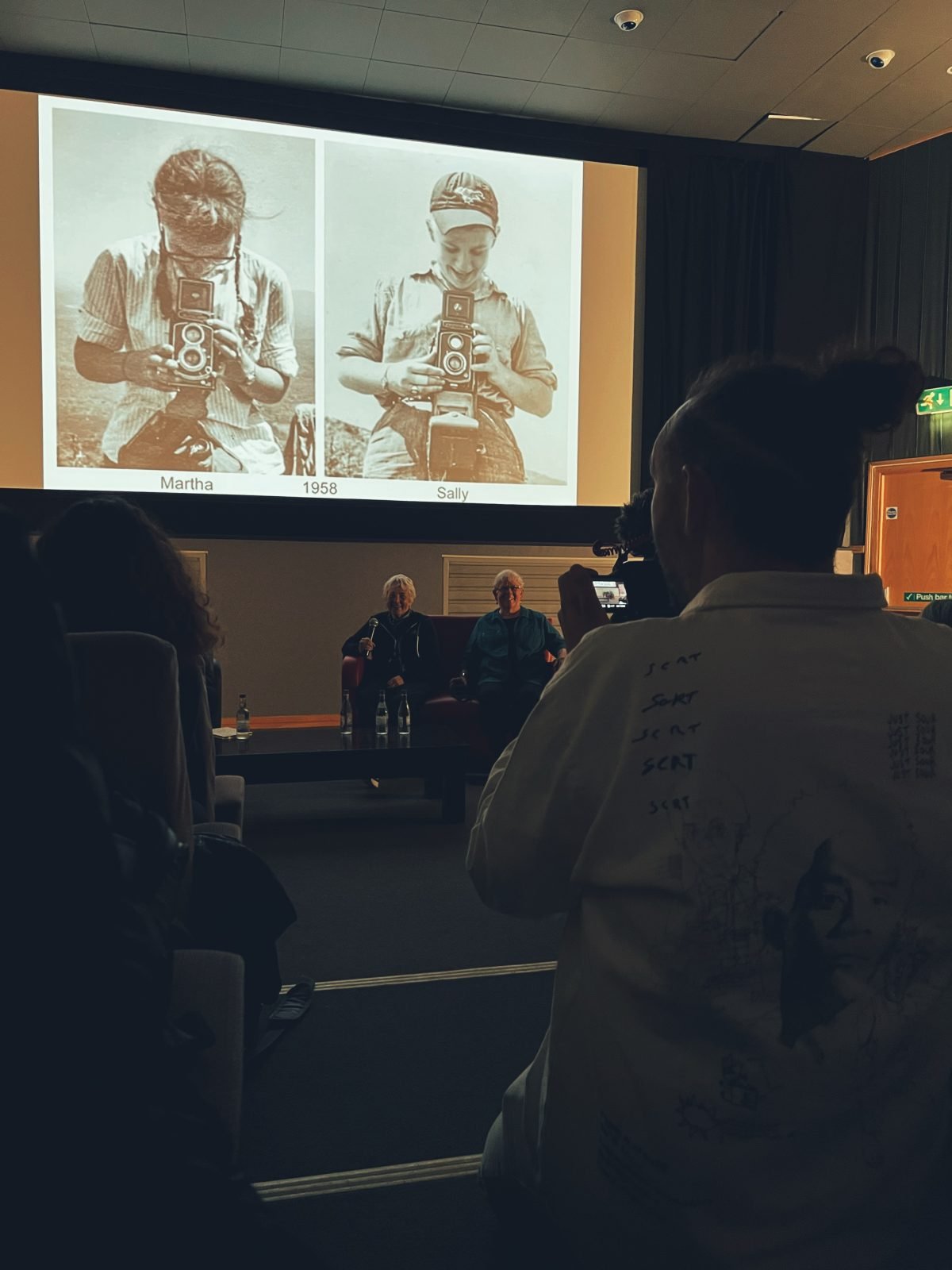 One of my personal highlights from visiting the Nuart Festival in 2022 was seeing a documentary film about Martha Cooper at Belmont Filmhouse. Martha is a photographer who has captured much of the graffiti, style writing and what we now call, street art, in a 1970s and 80s New York. Her work, even though she never knew it at the time, has become crucial in documenting this form of art from a time when it wasn't largely seen favourably. She captured the culture and hustle associated with street art from some of the most revered street artists in history. She has inspired thousands of people.
But, she is salt of the earth. Her attitude and outlook are humble, modest and come-as-you-are. I loved the docufilm but more so, really enjoyed hearing her speak. Her new book Spray Nation has just been released. One of Martha's previous books, Subway Art, which was released over 30 years ago, is now being a highly valuable piece of history. If you haven't already heard of Martha's works, please look her up. She has become an icon on the art scene.
Miss.Printed at Nuart Aberdeen
We were also lucky enough to go along to a Street Art Collage Workshop with Miss Printed. She is a globally renowned locative collage artist. Miss.Printed creates small collages and leaves them in urban environments for people to find and reflect on. She has created a large collage collective on Instagram where she has over 100,000 followers (The Edinburgh Collage Collective). It is here that she features some of the best collage works from across the world.
We spent an afternoon at the North East Scotland College with Miss.Printed and Rhed Fawell creating collages to place around Aberdeen. This is one of the most cathartic things I've ever done. When was the last time you cut pages out of magazines to create little pieces of art? In today's fast-moving world, this was turning consumerism into unique pieces of personal art representing strong statements, emotions and individual interests.
Looking for Beauty
I am a firm advocate for looking for beauty in daily life. I'm drawn to nature and our natural world but until Nuart, I hadn't really explored art. During our long weekend in Aberdeen, we saw well over 100 pieces which not only inspired me but gave me a real appreciation of what Aberdeen has to offer. It was really lovely to see the city transforming before our eyes. We had such a great time stepping out of our comfort zones and exploring something new, unique and beautiful.
I'd highly recommend visiting Aberdeen to see the street art. There really is just so much and it is quite spectacular. Pair your visit with great food and drink in the city centre. Let me know how you got on and which piece was your favourite. If you'd like more information about visiting Nuart Aberdeen, check out Aberdeen Inspired and VisitAberdeenshire for further information.
A big thank you to Shona, Grace and all the folk at both Aberdeen Inspired and Nuart Aberdeen. You welcomed us back to the city with open arms and we really appreciate it. It was truly a fantastic weekend and we very much look forward to next year's festival.