It's Beginning to Look alot like Cocktails
We recently welcomed the Worlds Largest Cocktail Festival, Tales of the Cocktail to Edinburgh for Tales on Tour 2.0, The Scottish Holiday. The Tales of the Cocktail brand was purchased by the Solomon family of New Orleans after heightened uncertainty about the future of the event and we wanted to find out if Tales on Tour measured up.
Unless it's your birthday, you rear sheep or you take long strolls in the rain, April isn't exactly a notable month. It ain't Summer and it ain't Winter. It's promising but doesn't promise much. What happens in Scotland in April? Lots but not an awful lot, ken?
So unless you're a clever tourist and have sussed out how to avoid summertime queues by simply putting on an extra jumper then you're probably just kicking about doing what you normally do in April. Things are pretty quiet and that's a good thing because then we can give you lots of ideas on how to better spend your April.
I need a cocktail to cool me down/warm me up/prepare me for Tuesday
If there was ever a better excuse to sip a nip, it would be at Tales of the Cocktail. But what the fluff is Tales on Tour? Don't worry, it hasn't heard of you either. Unless you're in the industry or are named after a piña colada, then Tales might just be alien to you. That's fine but it isn't good enough. So here I am, from my head to moji-toes to tell tantalising tales of well, eh, tales.
Sass and Brass in a Highball Glass
Tales of the Cocktail makes its official home in New Orleans. We attended the world class festival last year. It was hot and I was sweaty and Snoop Dogg turned up. It ain't an event to be snuffed at. Hundreds of spirits professionals, bartenders and distributors from far and wide descend on Louisianan land to boast, bag and beak booze from all over the globe. Chiefs such as DIAGEO and William Grant & Sons ship over some of their ultimate players to the merry-go-round to show the world why they do what they do. Smaller, independent brands take the opportunity to showcase their goods. Cocktail drinkers such as me and crew, turn up to both learn and love the cocktail creations on show.
Tales on Tour is pretty much just this but on holiday. 2018 was year two of Tales on Tour in Edinburgh. This means two things. 1. The weather never put them off last year and 2. You don't need to go all the way to New Orleans to get a real taste for tales. Although you really should… How did Tales on Tour kick off this year? With a brass band and Southern Comfort cocktails because why the hell not?!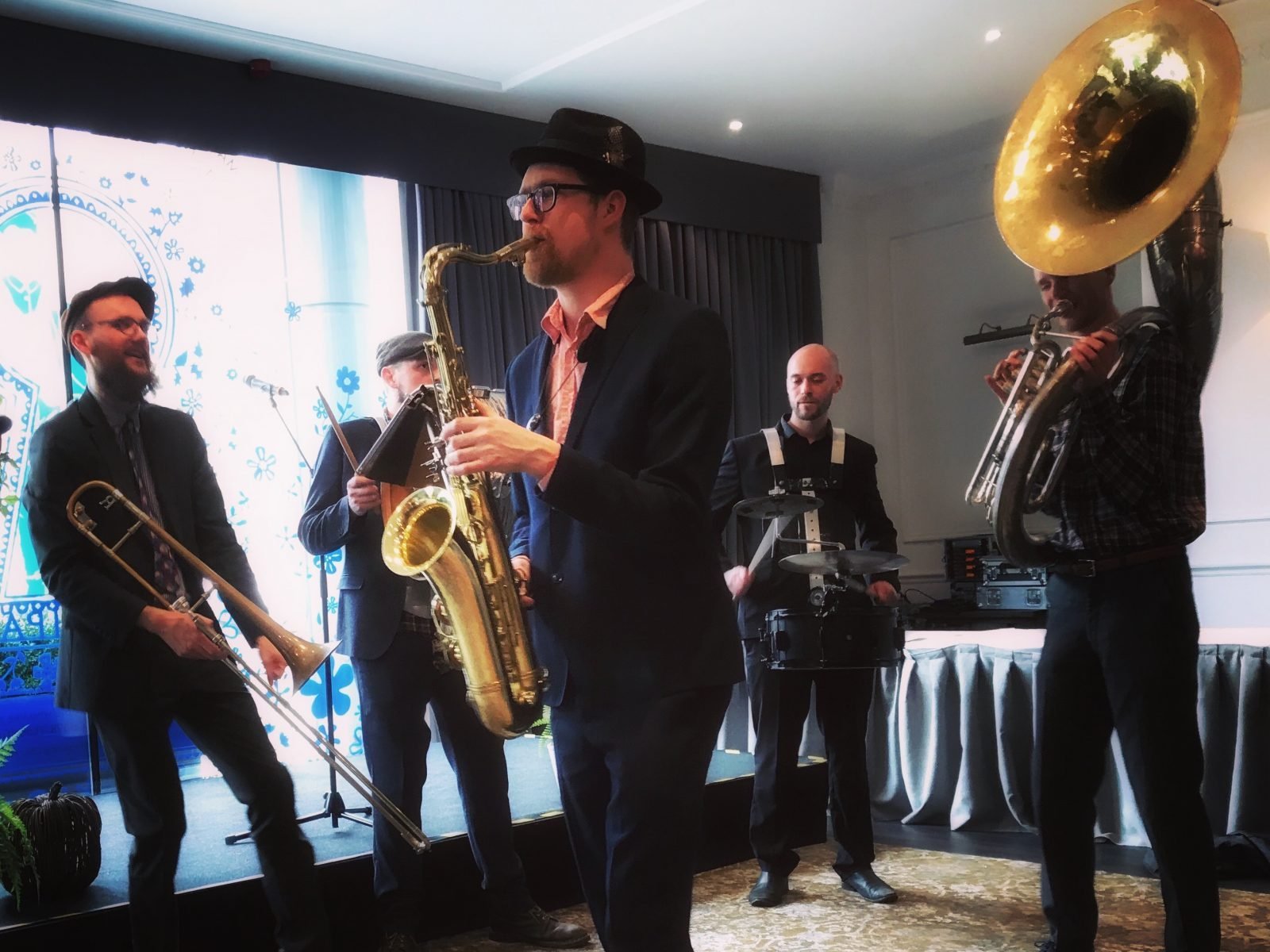 Tasting Tales
Question: What's better than following a brass band into a room full of spirits?
Answer: Staying.
And that is what we did. We spent a good couple of hours testing out foreign spirits, chatting the chat and dramming the dram. Our first stop on the (very) merry-go-round was One Gin who I am loving! One is a savoury gin with sage being the most prominent flavour. The One Foundation has invested £15 million in the last decade towards water and sanitation projects for the worlds poorest people. It is time, my friends, to drink gin and feel good about it.
We then had some complete language barriers with a couple of Irish men from Cremor Irish Cream. Cremor is a versatile Irish cream liqueur which floats nicely on shots, cocktails and my tongue.
Sonny Charles of the premium cocktail subscription service, Tipple Box, made sure we were looked after with a toffee apple cocktail whilst we enjoyed some Scottish jambalaya.
Edinburgh
Gin

Sin

Tales on Tour 2.0 lends some of its success to the incredible bar life in Edinburgh, with central establishments such as KIN and Voodoo Rooms welcoming enthusiasts, media and industry professionals for specialised cocktail creations.
Edinburgh Gin, a staple of Edinburghs spirit biz opened its doors for a Night at the Distillery featuring personalised gin distillation and some super salty cocktails, all of which went down a treat with the visiting cocktail community. We created our very own gin featuring a whole bunch of herbs that probably don't go together but were fun to chuck in. I couldn't tell you how it tastes because it is now a prized ornament. Edinburgh Seaside Gin however, is phenomenal.
Tell Tales
Night time saw brands such as Bacardi, Hendricks, Monkey Shoulder and Porters Gin takeover local bars with an array of bespoke Tales on Tour cocktails.  Seminars were also a key feature of the week, covering everything from music choice and bar ambience to cheap and effective PR and malt and aperitif educational tastings.
Following a turbulent year, a takeover and a switch to Not-for-profit, Tales on Tour 2.0 was a success and seemed to run relatively smoothly thus crafting a solid base for building a future stronghold in Edinburgh. It is now time for the brand to turn their attention to Tales of the Cocktail, New Orleans and we for one, wish them the best success.
Recommendations
Should you be looking for accommodation during a trip to Edinburgh, we recommend The Principal Hotel, George Street for high-end, central luxury. Our choice of budget-friendly accommodation is The Haymarket Hub, a smart hotel which, within the price of a room, includes the use of a mobile phone with free international calls.