So I thought November was supposed to be a boring month but here we are. Nothing normally happens in November though, does it? It's such a "meh" month. The witching hour is over and bonfire night isn't really a big enough event to make November happen. And, no matter how early you put your Christmas decorations up, it just isn't December Karen. Then, if we chuck 2020 on top of that… It's just… Bad vibes. Except this November has been pretty beasting for us. And like, zero humans seen that coming. We were planning on digging up the garden so we could hibernate for kicks. But the postie must have known things were looking Brothers Grim cus he arrived all guns blazing with a big scran box from The Adamson in St Andrews.
Oh Come All Ye Grateful
We've been doing a lot of eating in Aberdeenshire recently but I ain't gonna lie, I've never been to The Adamson in St Andrews. Aye, for no real reason other than I have not spent nearly enough of my life in Fife. Or Aye Fife. I'm assuming if I lived a Fife Life, I'd be a groupie at The Adamson, 'specially now! But yeah, I've never been. But when we shared the St Andrews scran love on insta, a heap of buzzin' folk messaged us saying pretty big things about The Adamson. Aye, big good things. So before we'd even heated up our thanksgiving dinner box, I had Aye hopes.
Whilst Aye 2.0 heated up the pumpkin soup, I lit a billion candles. Then I hung fairy lights around the wood burner. And I chucked plush cushions all over the floor. Cause I felt dead Wintery (and even Christmassy in November Karen). It was proper romantic and stuff. Thanksgiving dinner. By the fire. With wine. What d'ya say?
Big Eats, Winter Treats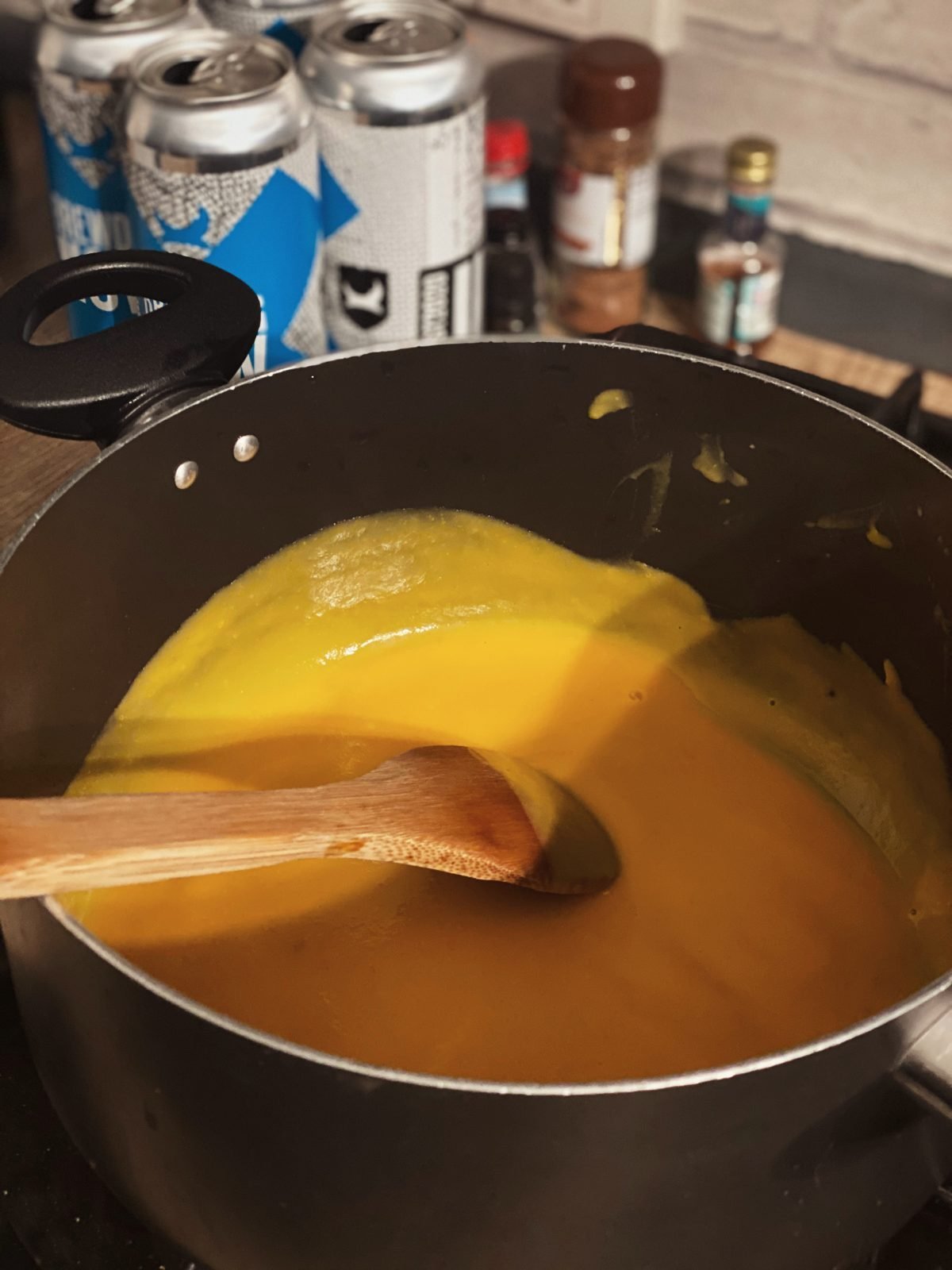 The pumpkin soup was gorgeous. It was creamy, thick, comforting, just like Winter in a bowl and it was topped with crunchy croutons. When you order a scran box from The Adamson, you have the option to add cocktails. Pre-mixed cocktails. Cocktails without the faff. And cause we are The Aye Life (dead famous eh), we were lucky enough to receive a couple o' pumpkin-spiced daiquiris in our box, with mint for the garnish. So, if I could just sit and gorge on pumpkin soup with matching daiquiris until January, that would be ideal.
The main course was a huge plate of Christmassy dinner; turkey roulade, roasters, pigs in blankets, veggies, cranberry sauce, gravy, the whole shebang. Proper quality comforting food and in big portions.
The dessert was a gorgeous wee pecan pie with a piping bag prepped with vanilla cream. For kidding yourself on that you're a pastry chef. Pecan pie though. I mean, like, why is this not just a thing? I loved it. It was absolutely gorgeous.
The Adamson at Home
So I am basically sitting over here wondering why it took a global pandemic for restaurant scran at home to be a thing? The three-course dinner kit comes in at £25 per person with cocktails a little extra. The food boxes have been lovingly prepped by former Masterchef Professionals contestant Chris Niven and you can eat in the comfort of your jammies. Winner winner, thanksgiving dinner. You can get in touch with the team and order your hearty supper on The Adamson at Home website.