We have had the absolute pleasure of eating everything in November. And usually, Winter is a quiet year. I love cosy nights in as much as the next lass, but this year, all I've wanted to do is go out. You don't know what you've got till it's 2 metres away and covered in Dettol eh? I like going out over Autumn and Winter/the dark months cause I sometimes get SAD (seasonal affective disorder) and getting out distracts me. So it's been just great to spend a lot of this month enjoying foodie adventures on our home turf in Aberdeen and Aberdeenshire. To the North East, I am extremely grateful. And to The Esslemont, thank you so much for having us along.
The Esslemont Bar and Restaurant
My days have basically been made up of fasting until 4pm then wining and dining like a Saint. Not gonna lie, I've taken to it. I'm starting to get these mad socialites that sleep through the day and "party all night." Except my kinda party is 3 hours of wine and scran and then an early night because I have this condition called age.
The Esslemont Bar and Restaurant is on Aberdeen's Union Street, just around the corner from Marischal Square in what used to be "Esslemont & Mackintosh" which began life in 1873! The historic charm is evident in the building and even though the store no longer exists, it's sophistication lives on in the Esslemont Bar and Restaurant. The building is also home to Mac's Pizzeria, which we haven't tried yet but have heard lots about. With the way we are scoffing, it won't be long before we get a pizza that. 
We took mum-in-law along with us to The Esslemont. And it's safe to say she enjoyed herself cause she keeps buying dresses in the expectation that we will take her out at least once a week. It's kinda funny taking folk out for supper with The Aye Life. It's weird enough for us, but we have gotten a wee bitty used to it. But for new folk, they're fascinated by the food blogger glamour of it all. We are very fortunate that we have made this part of our job, but we have come an awful long way to get here.
Christmas in Faberdeen
Okay, so The Esslemont looks completely glorious in it's Christmas attire by the way. It reminded me of Home Alone 2: Lost in New York. I am getting all kindsa vibes off Aberdeen city restaurants at the moment. None of them feel like they are in Aberdeen. I don't know why. But there's something London-y or European about the ones we have visited so far. I absolutely love it. It's such a vibe.
Oh yeah, and the Christmas Decorators have definitely been into The Esslemont. That's for sure. They put my Christmas tree to shame. Who are these people that go to Christmas School all year to have such a well-positioned tree? Ours has no decorations on the back cause "nobody sees the back." 
Peter Patter
Before I even delve into the top scran on offer, I need to give our huge thanks to Peter, our waiter. He was fair put under pressure from me (because I am trying to learn wine) and he didn't even break a sweat. How? I don't know. "What would pair with this Peter?" "What should I have with dessert Peter?" Poor Peter. Bless him. But he did a fantastic job of recommending drinks to pair with meals. For such a young loon too. Kudos where kudos is due. Also, mum-in-law loved him. She's a firm member of the Peter patter pan club.
So-fish-ticated Starters
Our meal was gorgeous. Scott had Cullen skink, which is completely unlike him. Cullen Skink is the perfect cosy Scottish starter to have on a chilly November day.
Mum-in-law had Shetland scallops with chorizo and a smoky sweetcorn puree because she is getting fancier by the minute and will absolutely turn her nose up at our dreich attempts at Christmas dinner this year I reckon.
I am getting dead adventurous with my eats these days. I had ham hock and black pudding terrine for starters which came with caramelised apple puree and whisky-soaked raisins. Not being funny, but I would never have ordered this a few months ago. It was absolutely gorgeous. Which is brilliant but frustrating cause how am I supposed to live up to this at home? A chicken and leek Asda traybake is sounding less appealing by the minute.
The Esslemont Aberdeen Menu
For the main course, I had the pork schnitzel with truffle mash, garlic mushrooms and watercress and parmesan salad. It was my first schnitzel. It won't be my last schnitzel. I like schnitzel it seems. Although it's not often I see a schnitzel on a menu. Anyone else finding the word "schnitzel" strangely satisfying? Also, can we just take a moment for truffle mash? Or truffle anything? I love truffle. It is appearing more and more regularly on our eats out and I couldn't be happier about it.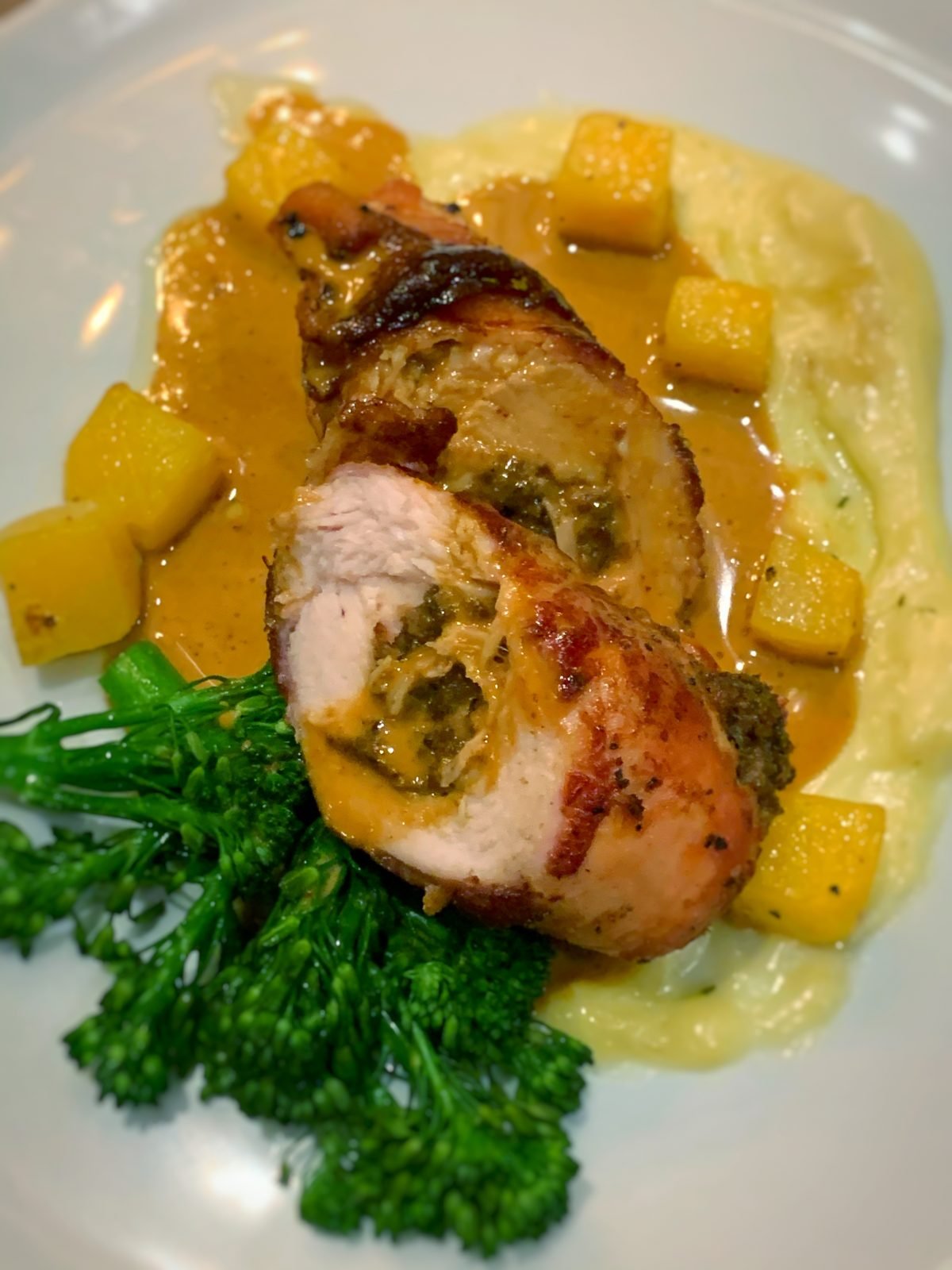 Scott ordered chicken Balmoral, which was completely stunning. Even after all these years of eating Scotland, I had never tried a chicken Balmoral cause I used to be an irritating picky eater with ridiculous food fear. Not any more friends, I love chicken Balmoral. I mean, I loved my schnitzel but if I probably would have swapped it for Scotts Balmoral. Because once I find a new toy, I can't stop playing with it. Or maybe I could have eaten both? Why did I not think of this? The Balmoral came with roast turnip, tenderstem broccoli, crispy kale and whisky sauce. So. inherently. Scottish.
Mum-in-law got stuck into braised ox beef cheeks with chive mash, glazed carrots, tenderstem broccoli, roast pearl and onions and grazy. She's only a totty wee thing so she gave us what she couldn't finish from her beef which Scott and I split. It was melt-in-the-mouth beef. Gorgeous and soft and tasty. She didn't need the truffle and parmesan fries we ordered as a side, but Scott and I (both obsessed with truffle), finished every crumb. This was proper comforting food with an elegant touch, enjoyed in the cosiest, Christmassy surroundings. Just perfection.
Thanks for pudding up with me
There are so many times when I write, that I want to insert a cheeky face emoji. Now, is one of those times. We finished our meal with vanilla crème brûlée all round. Except for Scott, who had a strawberry semifreddo from the specials menu. It was lovely and refreshing. We always eat each other's food when we are out. Mum-in-law cringes at this. But she doesn't join us every time so she misses out on our proper Lady and the Tramp spaghetti moments. Poor her.
The Esslemont
Our dinner was lovely, and I completely recommend The Esslemont Bar and Restaurant for a cosy, homely, uncomplicated meal out in warming surroundings, with a touch of elegance. You can check out The Esslemont Aberdeen menu here.
Follow along for lots of Scottish food adventures.