We'd had a couple of nights booked at The Hobbit Hideaway near Aberlour in Speyside for a while. The Hobbit Hideaway is a natural round Hobbit-themed house that lies at the foot of Ben Rinnes. From the photography, and the coffee and cake chat with its nature mama, Kim, I knew this place was going to take me far away. Possibly to one of my best-loved childhood books, Enchanted Wood, by Enid Blyton. Kim is a beautiful soul and an unknowing inspiration. What she can create through imagination and sheer grit, is real magic. 

Unfortunately, the day before we were due to head out to The Hobbit House, we lost a loved one. And, I'll be honest, this did, and has since, hit me hard. It wasn't entirely a shock, but it did happen fast. And as does with all families, it has had a ripple effect. In ways, you can never prepare for. We were due to arrive at the hobbit house on the Sunday, following a very difficult Saturday. As many of you know, we live, travel and work from our van. And following the loss, for the first time since we moved into the van, I felt displaced, and none of that was the van's doing. I felt like I was floating from place to place, not really taking anything in. So, Scott took the reigns from me, and decided that we should just go to The Hobbit Hideaway, and see how we got on.
A World of Good

We arrived in the evening, and I felt like a zombie. I just couldn't really feel anything. Probably the shock and grief of it all. My greatest strength is my words. But, in this case, I wasn't feeling like the funny Scotland-mad, lust for life writer I usually am. I felt numb. Scott helped me out of the van, and just kind of cloaked his arm around me in a "this will do you the world of good" kind of way. Unbeknown to me, his actions proved right.

I floated along the solar lit path and The Hobbit Hideaway came into view. Nestled there, with its turf room and its own grass bank hug, twinkling in the darkness, not inviting, but evoking.

This was unlike anywhere I'd ever been. It was like the Hobbit House saw me and just understood. Not in an in-your-face way, but in a "come in, I won't push you, but I'm going to hug you in ways you won't expect." It required nothing of me. From the moment we arrived to the moment we left, The Hobbit Hideaway did nothing but comfort me.
A Healing Hug of a Hobbit Home

As we walked in the front door, aptly adorned with a small stained glass window of a tree, I was gently lifted to another world. A better world. And in my case, a world I needed. Instantly, the scents of lavender, and possibly rose geranium hit me.

As I glanced to my right, a wee diffuser gently purred its relaxing scents. Fairy lights draped around the smooth tree trunks which held up the house, creating a comfortable light. Nothing brash. Nothing expecting. Gentle darkness ready to hide you, with glimmers of light, ready to hug you.

On the ceiling in the centre of the room, was a large circular skylight and around the skylight was a circle of ever-changing colours. It was one of the most beautiful things I'd ever seen. It lost me, but it wasn't lost on me. Sometimes being lost is the best thing that can happen to a person. It's in being lost that we sometimes find out not where we are, but who we want to be. I was lost when I discovered the way I now live. The Hobbit Hideaway allowed me to get lost, but never once failed to guide me on how to find my way back.

Beneath the skylight was the hub of the home, the dining table, with gentle tealights interrupting the darkness. This was one of the most perfect things I'd ever seen.
Stars and Expectations

There was a telescope in the house, we never used it during our stay, I couldn't muster up the energy to stargaze but it was a comfort just knowing they were there, shining when I was ready. There was also a private bedroom off to the side of the open-plan roundhouse.

But I took comfort in sleeping in the bunk beds, surrounded by teddies which one of our dogs, Corrie, made a point of finding for me. Our other dog lay guard by the wood-burning stove, as she does best.
Kim, or as I see her, one of my mama natures, had laid out a welcome package, with Peace tea, nature bars, fresh eggs from the mirage of rather fabulous hens in her purpose-built chicken home in her garden. If there's one woman I aspire to, it's her. Which I think encourages me to look a little closer to home for heroes.
A Mind Away

I didn't know what to think during my three-night visit to The Hobbit Hideaway. I still don't know what to think. But what I do know, is that The Hobbit Hideaway encouraged me to not think. Which was the best thing for me.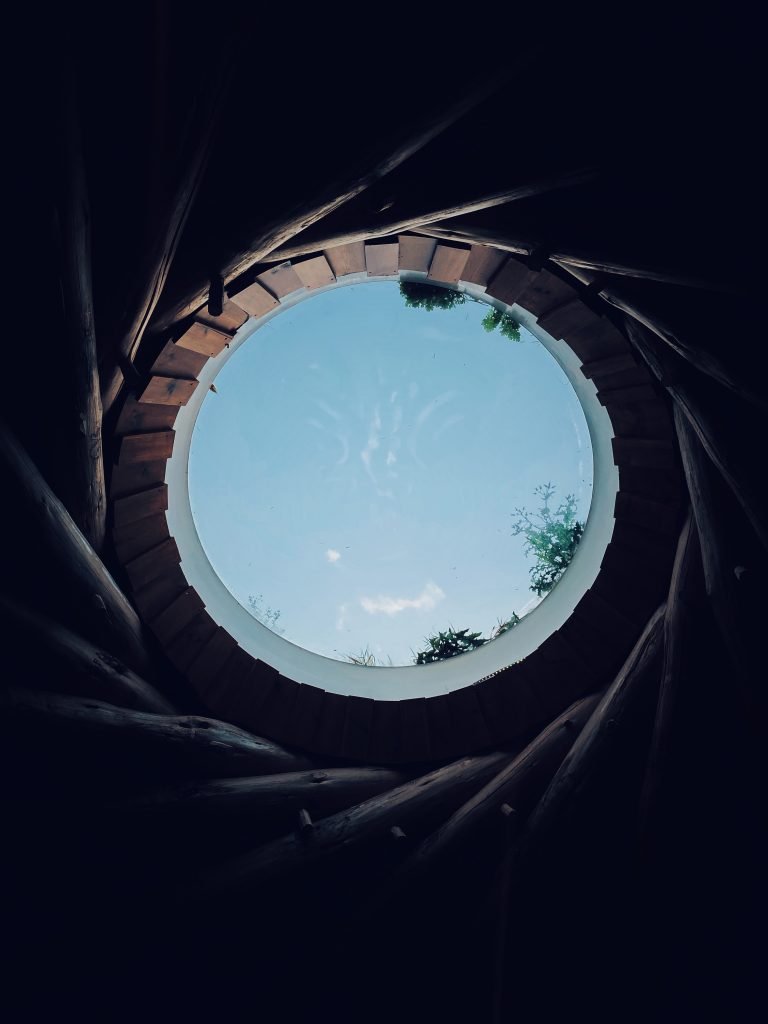 Whether I was slumped on the stone sofa with plush cushioning by the wood-burning stove, or putting my feet up on the lounge chairs soaking in the diffuser's easy scents or being a child again in the solid wood bunk beds, with Scott's head hanging down from the top making daft faces at me, the house did nothing but comfort me.
The Hobbit Hideaway

I didn't walk out the door once, for three days. I could have, there was a BBQ, firepit and the magical fairy glen nearby, Scott took the dogs out to see it, I'd thankfully seen it when I visited Kim a couple of weeks prior. But this time, I stayed warm in my hug. I'd brought a book with me, Where The Crawdads Sing, and although checking in on loved ones now and then, I just fell into my own little (better) world, filled with natural wonder, magical distractions and in the case of my book; salt marshes, lagoons, birds of a feather and the power of outcasts. It couldn't have been more appropriate.

The house had its own selection of books that made sense; everything from natural builds, The Art of Coorie and Kilted Yoga to Scottish fairytales depicting the character I'm most compared to by my American readers; the kelpie. I did read the story and saw that they had some trouble taming the kelpie, asides from one person, who was able to tame her and work to her strengths. There were many hidden messages at the hideaway. In loss, there is hope. In grief, there is kindness, and in The Hobbit Hideaway, there's magic.

The Hobbit Hideaway is the house that hugs you, encourages your inner child and amazes you at every angle. Visiting here is not simply visiting self-catering accommodation in Speyside, it's coming as close to magic as one could.
Thank you Kim, for more than everything.