The Big County
Perthshire sits proudly right in the middle of Scotland, neighboured by nine border counties.  It's fondly known as the 'big county' because of it's large physical area and the diversity of towns and countryside.  And it's a bonnie place for sure.  There are a few mountains to scale, including Ben Lawers and Schiehallion, if that's your thing.  And there's also a ton of lochs if you're more of a water baby, including the well known Loch Tay and Loch Earn.  So let me tell you a bit more about things to do in Perthshire when you're next in the area.
Aye Spy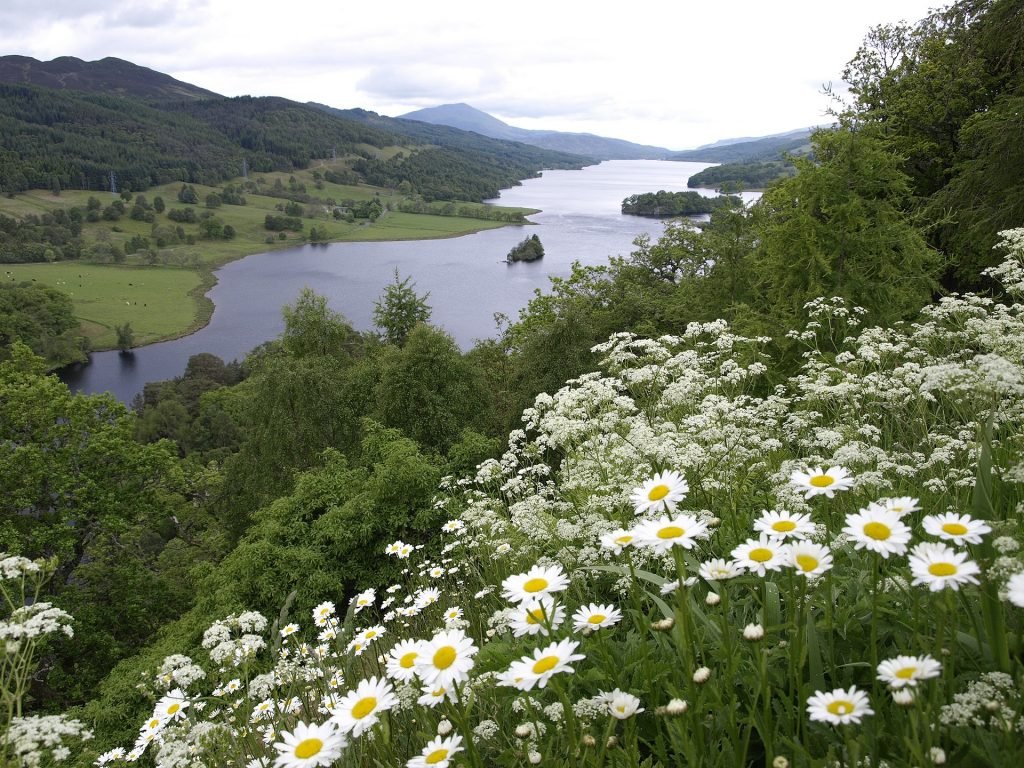 The Queen's View near Pitlochry is one of the most photographed spots in Scotland and for good reason.  The stunning viewpoint overlooks Loch Tummel with Schiehallion in the distance.  Queen Victoria believed that the iconic spot was named after her when she visited in 1866.  But it's more likely that it was named after Queen Isabella, wife of Robert The Bruce.  She used the spot as a resting place on her travels, with her tartan blanket and her Costa coffee. Okay, I made that last bit up.  Pack yourself a picnic and enjoy a walk in the beautiful woodland within the surrounding area.
Safari, So Good
Did you know that you can go on safari in Perthshire?  I'm not lion.  If you're after a bit of adventure, you can book either a land-based safari or a cruise on the River Tay with Highland Safaris.  Enjoy the stunning scenery and wildlife that Perthshire has to offer from the land or sea. Or both. Treat yourself.
Blair Today, Scone Tomorrow
The beautiful Blair Castle has been home to the Atholl family for over seven centuries.  That's a lot of family history in one castle.  It boasts 30 rooms that you can nosey at on a guided castle tour.  Or you can stroll around the massive grounds which include a nine-acre walled garden and a sculpture trail.  You can even stay on the estate in one of the many lodges or self-catering houses available or you could do a bit of camping.  Scone Palace is another historic attraction and pretty impressive stately home in Perthshire.  Robert The Bruce was crowned here in 1306 and it also housed the Stone Of Destiny at one time.  It now houses the Scone of Destiny in the palace coffee shop.
Woodland Wonder
The Hermitage is a woodland walk just off the A9, not far from Dunkeld.  The thunderous Black Linn Falls take centre stage within a forest of giant Douglas Fir trees.  They're proper big trees that make you dizzy when you look up at them. You can view the waterfall from a cute wee folly, known as Ossian's Hall, built way back in 1757.  It's spectacular to see the power of the water as it crashes into the pools below. The Hall is also a great place to spot salmon leaping up the falls, especially in Autumn, which is a fairly impressive sight to see.
Potty About Potter
A great day out for little kids (and big kids alike) is a trip to the Beatrix Potter exhibition and gallery at Birnam.  Potter spent many childhood summers with her family in nearby Dalguise and enjoyed exploring the countryside in this area.  It was said to be a great influence on her writing. The exhibition is part of the Birnam Arts Centre and it has a vintage play area and a garden where you can spot Peter Rabbit and his buddies.
Bottoms Up
If a more grown-up activity takes your fancy (behave…my title had you fooled), take a trip to Dewars Distillery in Aberfeldy. Find out about this picturesque old distillery, built in 1896, via an interactive heritage exhibition, delivered via iPads. How cool is that?  Then enjoy a wee dram and a cheese and pickle sandwich in the relaxing whisky lounge and cafe.  A fab day out that will really lift your spirits.
I hope you've enjoyed my list of things to do in Perthshire so go and explore and enjoy all this big county has to offer. You won't regret it.