Tea Grows in Scotland… Mind Blown
'You can't get a cup of tea big enough or a book long enough to suit me' – C.S Lewis
On a recent Highland excursion, we popped up to the heart of Sutherland for a good ol' cup of Highland tea. My tiny wee mind was utterly blown as I had no idea that it was even possible to grow tea in Scotland. In all fairness, it does take a wee while, but it is definitely possible. I never get the chance to review tea. Tea reviews are much easier than gin reviews and leave me with no headache. Alas, I have found my calling…
And boy did I need the tea. Scott and I just had the busiest fortnight ever whilst up in the Highlands. Between blogging, meetings and reviews, we literally had no time. I definitely slept in my clothes twice… and I ain't even sorry.
[one_third]
[/one_third]
[one_third]
[/one_third]
[one_third_last]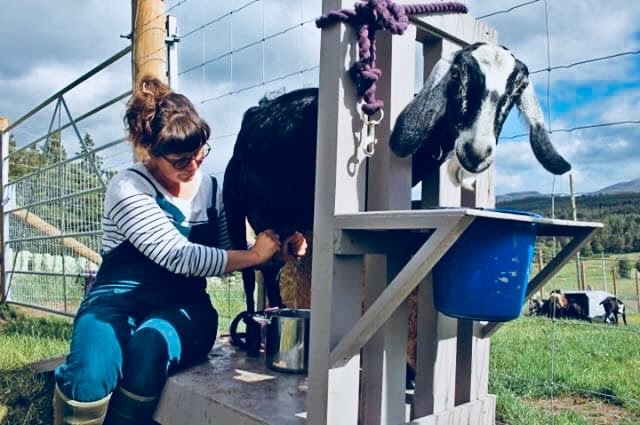 [/one_third_last]
Tulloch Tea
Tulloch Tea sits in the best location; up on a wee Highland hill with an epic Loch view. The plantation is home to GOATS with adorable floppy ears. Unfortunately we arrived during one hell of a rainfall so I had no chance to cuddle said goats. I did however take goat's milk in my tea, which was definitely a first. And likely not a last.
Lucy, the Tulloch Tea Queen comes from a background in textiles and is super funky and literally the best person in the world to grow tea. Her and her partner have always had an interest in making Hedgerow teas such as rosehip, peppermint and nettle but have now taken their passion and made it their livelihood.
The Apothecary
It takes 4 hours to water the tea plants and considering Scotland has been mostly tropical recently, the Tulloch TEAm have had a very busy Summer. Along with keeping the plants hydrated, Lucy also has to deal with weeding and checking for bugs. We were impressed to hear that she uses an eco-friendly wash, made from natural ingredients such as garlic.
Alongside creating a variety of hearty Scottish teas, Lucy is working on a natural skincare range. The Tulloch Team are keen to reduce waste output by using as much of the plant as possible. The secondary leaf, which cannot be used for the primary blend, is used for the Apothecary. We had the pleasure of scent-testing a few of her lip-balms and they smell incredible. Lucy also makes her own Matcha tea with a traditional Matcha mill. Is there no end to her Tea-alents?!
Sereni-tea
Lucy was kind enough to brew us a big un' during our little tea and greet. I enjoyed a Highland Malt (does exactly what it says on the tin). Although unfortunately I am a bit of a wimp, so took mine on the weaker side. Scott enjoyed his strong but was then hyperactive for the next 5 hours. Which tells me two things. One, the tea works and two, Scott works well on high volumes of tea.
We would like to thank Lucy and her team for having us over for a little nosy. We are super excited to see what fabulous products she has lined up. To check out Tulloch's full range of tasty teas, you can visit their website here.