I recently had a princess moment. Or a Pretty Woman moment. It kinda depends how you look at it. Either way, I felt pretty fancy for a wee bit. It was on an overnight stay on Highland Lassie, a floating hotel near Inverness. Other than the owners, we were lucky enough to have the whole boat to ourselves and gosh, did we make the most of it. Not long after we arrived on the boat, we had a pretty special delivery from Hampers and Champers Inverness. A delivery that made my lips drool. Why lie?
Hampers and Champers Inverness
We came across Hampers and Champers Inverness on Instagram. They are a wee events business in the Highlands that can also do random deliveries to people on boats. I happened to be a person on a boat. It was all going to plan. When I first got in touch with them to see about boats and platters, they suggest langoustines. As soon as they suggested langoustines, I knew it was a match made in heaven. If you follow us on The Aye Life, you'll know we have a bit of a thing for seafood and are often found ogling over Amity Fish Co, a local to us fishy biz in Peterheed. Turns out that Hampers and Champers get their langos from Amity Fish Co. So I was fangirling big time.
Let's get it prawn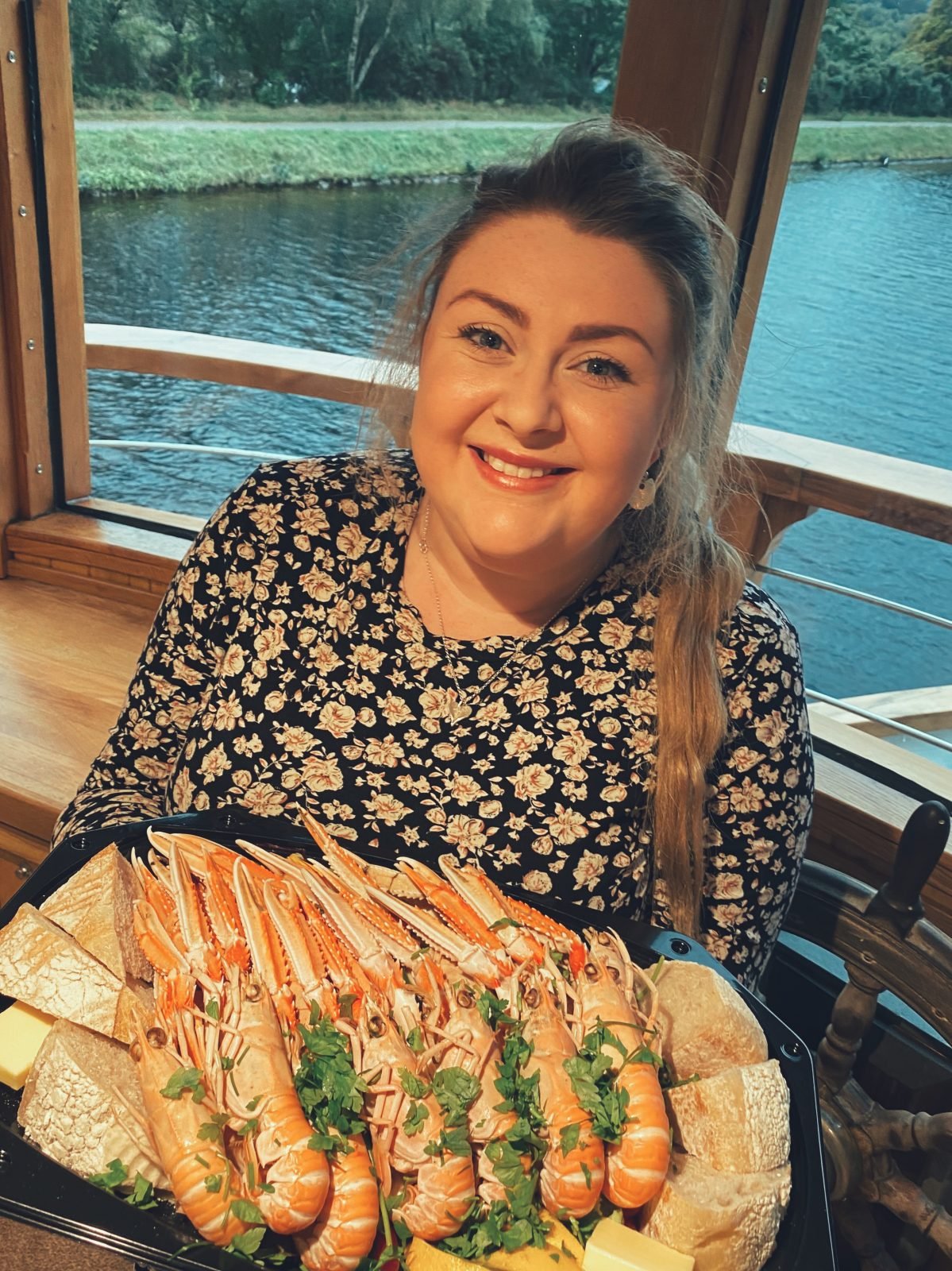 We sat in the Wheelhouse of the boat to enjoy our cracking hampers. Scott plated everything up whilst I sat and drank bubbles like the Queen Victoria I am. It was absolutely lush. The langos were fat and fancy and were accompanied by crusty bread and the most gorgeous cocktail sauce. I don't even like cocktail sauce. I do now. Hampers and Champers Inverness hasn't just given me a princess experience but they've upgraded my Christmas starter experience.
Our other platter contained lots of lovely cheeses, fruits, crackers and chocolate-covered pretzels. I don't like strong cheese so everything was mild enough for me to get stuck in. For all of you who like strong cheese, you're proper hardy.
If you're in Inverness and you'd like something cosy, comforting, and unique at home, or catering for an event, check out Hampers and Champers.